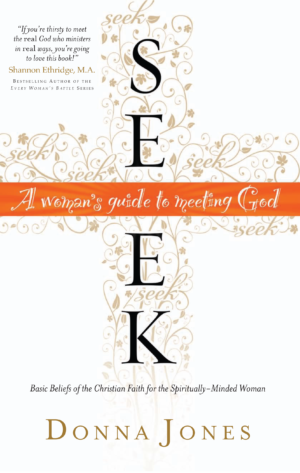 Have you found yourself wondering if God was ever going to answer your prayer?
My friend, Author and Speaker Donna Jones, shares from her book — Seek: A Woman's Guide to Meeting God — what happened when she and her family didn't give up on a prayer request.
Donna writes…
Just over a year ago our family saw the answer to a prayer that took 40 years to answer. In case you skimmed right over that last sentence, let me repeat the time frame again—40 years. Not 40 minutes. Not 40 days. Not even 40 months.
40 years.
40 years ago my brother-in-law became the first Christian in his family. After several years and a few awkward conversations, my husband followed his brother's footsteps and became a believer, too. Together they began to pray for their mom and step-dad.
When JP and I married, I joined in praying. Once our kids became old enough to question why Grandma and Grandpa didn't believe in God, they prayed, too.
There were seasons of intense prayer and seasons of scattered prayer.
Was it discouraging at times?  You bet.
Did my husband and his brother ever give up hope?  They sure did, especially when they were told, "Please don't talk to us about God anymore."
Respectfully, they stopped talking about God, but they never stopped praying. Or loving. Or visiting, or calling, or caring.
For 40 years.
About this time last year, my mother-in-law shocked us by announcing she was considering going to church "just to see." We held our breath and continued to pray. She went and liked it. Several women invited her to lunch. These women were warm, thoughtful, even downright normal, and my mother-in-law liked them immediately. They invited her to join their home Bible study. She went "just to see." She liked that, too.
Then, seemingly out of the blue, she called my husband and asked, "How do I become a Christian, exactly? I've been waiting for someone at church to tell me, but they never do."
Why did it take 40 years of prayer before my mother-in-law made a spiritual commitment?  Honestly, I have no idea. Sometimes we just don't know why God works the way He does.
What I do know is this: we're glad we didn't stop praying, even if it took years to see the answer.
Maybe you've prayed for something—or someone— near and dear to your heart too, but have yet to see God answer. Perhaps you're tempted to give up. You might even be toying with thoughts about how God doesn't hear your prayers or care about your concerns. It's easy to give up when we don't see immediate results. And if people around us seem to have their prayers answered almost instantaneously? Well, it's like adding salt to the wound.
Unanswered prayer can make us feel invisible.
If we begin to believe we're invisible to God we'll likely throw up our hands in despair and ask, "Why bother?"
The enemy would like nothing more than to sideline you and your prayers by tempting you to believe God doesn't see you or hear you, and therefore, doesn't care for you.
But God does see. He does hear. You are not invisible. The cries of your heart do not go unnoticed. The eyes of the LORD search the whole earth in order to strengthen those whose hearts are fully committed to him (1 Chronicles 16:9).
The fact that you are reading these words right now is proof.  It's God's way of bending low to say "I see. I know."
May I tenderly whisper something the devil doesn't want you to hear? Keep on praying and don't stop. Don't let the enemy win.
Personally, I find great comfort in Jesus' words,
"Keep asking, and it will be given to you. Keep searching, and you will find. Keep knocking, and the door will be opened to you." (Matthew 7:7)
It's easy to think of prayer as a one-stop deal. But Jesus so clearly indicates that prayer is an ongoing pursuit. Prayer is pressing in and pressing on, even when the pressure's up.
If you've been tempted to stop praying, don't. If you've been tempted to stop caring, don't do that either. When you are tempted to give up, look up. And pray.
Even if it takes 40 years to see the answer.
 "Let us not become weary in doing good, for at the proper time
we will reap a harvest if we do not give up" (2 Thessalonians 3:13).
For your chance to win a free copy of Donna's book, leave a comment below about what you are waiting on God for, and share this post on your social media page. (U.S. residents only for book giveaway, please.)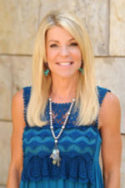 Donna Jones is the author of Seek: A Woman's Guide to Meeting God, Raising Kids with Good Manners, and Taming Your Family Zoo. A national and international speaker, Donna has spoken from coast to coast and on four continents helping women find and follow God in real, everyday life. Her favorite role is wife to her pastor/hubby, JP, and mom to their three wildly funny, young adult kids who frequently sit on her kitchen counter just to chat. For more encouragement and free resources connect with Donna at www.donnajones.org.