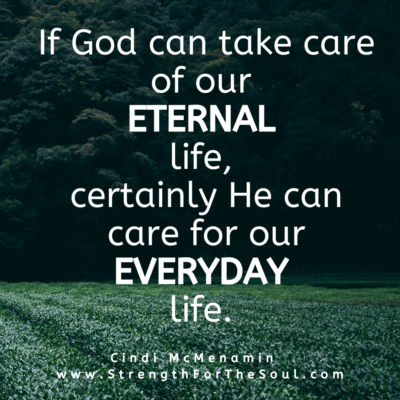 There is a lot that can cause you to fear your future these days. But God's steady assurances in His Word can calm your heart and dissolve your anxiety. Here are some key reminders from Scripture of how secure you are in your relationship with Christ and in the hands of the Almighty Sovereign God:
Scripture Reaffirms God is at Work Through Your Suffering
We tend to fear our future when we begin to suffer physically or emotionally. And in our humanity, we can experience thoughts like Where is God? Why is He allowing this? How can this be good for me? Why won't He intervene?
Yet James 1:2-4 gives us a glimpse of what God has in mind when He allows you to experience difficulties. He is shaping your character and refining and maturing you, spiritually. James writes: "Consider it all joy, my brothers and sisters, when you encounter various trials, knowing that the testing of your faith produces endurance. And let endurance have its perfect result, so that you may be perfect and complete, lacking in nothing" (NASB).
Likewise, Romans 8:28-29 (NASB) assure us that our sufferings will work for our eternal good by transforming us into the image of Jesus: "And we know that God causes all things to work together for good to those who love God, to those who are called according to His purpose. For those whom He foreknew, He also predestined to become conformed to the image of His Son…"
Praise Him when the hardships come. He's making you more like His Son.
Colossians Reminds You Where to Keep Your Focus
Do you get nervous, anxious, or fearful thinking about politics, government, world affairs, or the future in general? There's a reason for that. This place is not your home. God wants you focused on your eternal inhabitance. He wants you to be heavenly-focused and remembering that "there's no place like Home."
When you start getting distracted at where this nation and world is heading politically, socially, and morally, take Colossians 3:1-4 to heart. It tells us where to fix our focus:
"If you have been raised with Christ, keep seeking the things that are above, where Christ is, seated at the right hand of God. Set your minds on the things that are above, not on the things that are on earth.  For you have died, and your life is hidden with Christ in God. When Christ, who is our life, is revealed, then you also will be revealed with Him in glory" (NASB, emphasis added).
Jesus Assures You of His Provision
On days when you start to worry about your health, your finances, or anything that lies in the future, remember Jesus, Himself, made this promise about your day-to-day provision.
"Do not be anxious about your life, what you will eat or what you will drink, nor about your body, what you will put on… Look at the birds of the air: they neither sow nor reap nor gather into barns, and yet your heavenly Father feeds them. Are you not of more value than they? And which of you by being anxious can add a single hour to his span of life?  And why are you anxious about clothing? Consider the lilies of the field, how they grow: they neither toil nor spin, yet I tell you, even Solomon in all his glory was not arrayed like one of these. But if God so clothes the grass of the field, which today is alive and tomorrow is thrown into the oven, will he not much more clothe you, O you of little faith? Therefore do not be anxious, saying, 'What shall we eat?' or 'What shall we drink?' or 'What shall we wear?' For the Gentiles seek after all these things, and your heavenly Father knows that you need them all. But seek first the kingdom of God and his righteousness, and all these things will be added to you" (Matthew 6:25-33).
If Jesus can provide for your eternal life, certainly He can provide for your everyday life.
Psalm 73 Reaffirms Your Prize and Purpose
In Psalm 73, Asaph reminds us of God's great purposes and why we are still here. If you have ever asked "Why do the wicked prosper?" and "Where is God while everyone is doing their own thing with no regard for His laws?" you have this song in Scripture to remind yiy that God is sovereign and He knows what He's doing.
Asaph was disillusioned that God did not appear to be blessing the righteous, but prospering those who were far from God. But when he "entered the sanctuary" he got perspective. When we, too, come before God in worship—or just forget about ourselves and everyone else and focus on Him—we gain perspective.
Asaph's thinking was transformed after being in the presence of God and His people when he sang in verses 21-24: "…I am continually with You; You have taken hold of my right hand. You will guide me with Your plan, And afterward receive me to glory."
Our hope and prize (and a great motto for our lives) lies in the next two verses:
"Whom do I have in heaven but You?
And with You, I desire nothing on earth.
My flesh and my heart may fail,
But God is the strength of my heart and my portion forever" (verses 25-26).
This psalm ends with a reminder in verse 28 of our purpose:
"But as for me, the nearness of God is good for me;
I have made the Lord God my refuge,
So that I may tell of all Your works."
You, dear reader, are here on this earth to tell others of what God has done in your life. So, don't stop telling others—whether they're listening or not—of all He has done.
For more on building your faith when life looks uncertain, see Cindi's books, Letting God Meet Your Emotional Needs, and Women on the Edge.