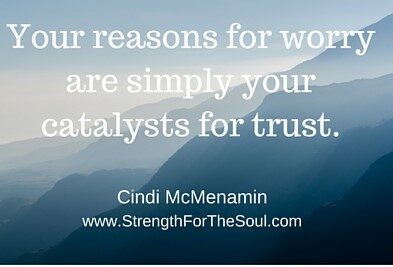 I recently had cause for worry. And even fear!
My sister noticed a lump in my neck that an ultrasound shortly after determined was a 5 cm mass categorized as "very high risk."  I had to wait three weeks for a biopsy, and another three weeks after that, for the results of molecular scans to find out how "high risk" it was.
Yet, one lesson I've learned throughout my life guarded my heart and mind during that time of uncertainty: Nothing takes our God by surprise. This apparently slow-growing mass on my right thyroid lobe didn't catch God off-guard, nor did He have to suddenly get to work on it. It was as if His love, rather than fear, enveloped me during that time of uncertainty by reminding me of His sovereignty, His perfect timing, and His trustworthy Word.
He so faithfully brought to mind verses I'd memorized as a young woman. Verses like Isaiah 43:2:
"When you pass through the waters, I will be with you; And through the rivers, they will not overflow you."
And Philippians 4:6-7:
"Be anxious for nothing, but in everything by prayer and supplication with thanksgiving let your requests be made known to God. And the peace of God, which surpasses all comprehension, will guard your hearts and your minds in Christ Jesus."
Instead of feeling overwhelmed with fear or anxiety, I was completely overwhelmed by His love. I remember telling my sister, "I've never felt more loved in my life." That didn't make sense to me. But God doesn't make sense sometimes. He makes His presence known instead.
During my wait for the biopsy results, I learned the possibility of a surgery to remove the lump could impact my vocal cords and leave me unable to speak. Yet, that news came right as I received three more speaking retreat bookings and a contract to write not one, but two more books for my publisher on a topic I'll likely be speaking on for the next 5-7 years. Certainly, the timing of all of this wasn't coincidence. The fact that a possible surgery could result in losing my voice, at the precise time I was receiving more opportunities to speak for my Father over the next year, assured me even more that God had this in His hands, and He wanted me to express faith over fear.
Despite my doctor's strong belief that the mass was cancerous, the biopsy results came back atypical, but benign. And further molecular scans of my tissues showed the horrific looking lump matched no known mutations for thyroid cancer. Even though a large, threatening nodule was clinging to my thyroid lobe, my health wasn't threatened. My bloodwork and thyroid were normal. Cancer had not developed in my body.
I am so very grateful for that cancer-free diagnosis. I realize that is not everyone's experience. And for now, I'm having that mass monitored for size every few months to see if I will eventually need it removed. I'm praying God shrinks it or dissolves it, or gives me peace about having it removed, despite the slim possibility of losing my voice.
Yet, I am even more grateful for God's comforting presence, His undeniable love, His constant affirmation that He was working all things for my good during that time of uncertainty. Never have I felt closer to my Savior and Lord. And I would rather walk intimately with my God during nights of uncertainty than skip through the sunshine and blue skies, without His close presence.
I believe God allowed that mass to be detected, and for me to endure that time of uncertainty, to draw me closer to Himself and strengthen my faith in the God who knows all, can do all, and always provides peace, no matter what the situation.
What are you tempted to worry about today? Can you instead hand it over to the One who knows all about it? Can you trust the One who won't let anything touch your body that hasn't first passed through His loving hands? Trust He is good even if the diagnosis isn't.
Give it all to Him in prayer and receive His perfect peace in exchange. Philippians 4:6-7 (the verse I quoted earlier about praying instead of worrying) is a practical prescription for peace, no matter what has you concerned.
Let's hand Him EVERY detail of our lives today and trust Him with it, regardless of the outcome. He pulls us close as we choose faith in Him, over fear.
For more on trusting God during uncertainty, see my best-selling books, When Women Walk Alone, and When God Sees Your Tears.