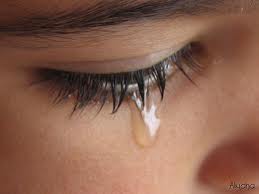 Have you experienced the heartache of losing someone you love? What about a personal dread or agony of wishing you didn't have to endure something?
You are not alone.
Jesus, who was called "The Man of Sorrows" knows those feelings all too well. Hebrews 4:15-16 tells us "For we do not have a High Priest who cannot sympathize with our weaknesses, but was in all points tempted as we are, yet without sin. Let us therefore come boldly to the throne of grace, that we may obtain mercy and find grace to help in time of need." That passage not only assures us that Christ is there to help us with anything we struggle with spiritually, but that we can also call upon Him to help – and understand – when we struggle with physical and emotional pain, as well.
As a follow-up to last week's blog "Are Your Emotions In Line with God's?" here are five more emotions Jesus expressed:
Sorrow – at the ravages of sin and death.
When Jesus' close friend Lazarus died, and his sister Mary said those words wrought with disappointment: "Lord, if you had been here, my brother would not have died" (John 11:32), Jesus evidently felt sorrow. Certainly, Jesus knew that He was going to raise Lazarus from the dead and that is why He let him die and remain in a tomb for four days (John 11:4-7, 14). Yet we read that "When Jesus saw [Mary] weeping, and the Jews who had come along with her also weeping, he was deeply moved in spirit and troubled" and "Jesus wept." (verses 33-35). For Mary? At the thought that He disappointed her? For the loss of Lazarus?
Jesus saw the ravaging result of sin and He knew better than anyone that death was nota natural part of life, but the most unnatural thing anyone created in the image of God has to experience. It wasn't God's perfect plan. And coming face to face with the agony that humans experience from the sting of death moved Him to weep. Shortly thereafter, Jesus fulfilled His purpose for coming to this earth by dying on a cross to eradicate the sting of death and rising from the dead to conquer the grave (1 Corinthians 15:54-55).
Does the loss of a loved one, believer or not, move you to tears? Do you hold within you an ache for someone who has been ripped from your life? While we have the hope and assurance that those who are trusting Jesus alone for their salvation will live eternally, the temporary separation caused by death still grieves our hearts andthe heart of God. Psalm 116:15 tells us "Precious in the sight of the Lord is the death of his faithful servants." If losing someone through death moves you to tears, it moved the Son of God to tears, too.
Compassion – for the lost and downtrodden.
I used to be critical of unbelievers who lived an ungodly lifestyle. Those who found themselves living on the streets were there because they had rejected Christ and made a series of bad choices, resulting in burned bridges and a lack of relationships, I concluded. Yet, Jesus had compassion on those who were suffering, whether it was from physical ailments (Matthew 9:20-22) or the direct result of sin (John 8:1-11). Regardless of howthey got where they did, Jesus saw people as created in the image of God and showed compassion on them – even the dirty, disfigured, leprous, rebellious, contagious, and forgotten.
When you see someone who is living with the consequences of their sin does it make you cringe or cry? Is your heart moved to pray for that person's relief, healing, comfort, salvation? Is your compassion strong enough to cause your hand to extend in action, help or hope for another? That's what Jesus would do. And it's my prayer that I would do the same.
Agony– at impending suffering.
When Jesus sweat blood and tears in the Garden of Gethsemane just before being arrested, it wasn't out of fear of what was to come. It was more like agony, knowing He would bear the sins of the world on His shoulders, knowing He would endure the temporary separation from His Father's enabling. And that caused Jesus to pray so intently, and in such agony, that He sweat blood and tears as He prayed: "Father, if you are willing, take this cup from me…." In His humanity, He dreaded what was to come. But in His faith and pure obedience to His Father, His agony made for surrender: "Yet not my will, but yours be done" (Luke 22:42).
Do you dread an upcoming surgery? A chemotherapy session? A trial or interview in which you must revisit something painful or distressing? Jesus understands. Again, Hebrews 4:15 assures us we have a High Priest (Jesus) who can sympathize with our weaknesses, and has also endured more suffering than we will ever have to experience ourselves. And, Hebrews 13:5 assures us that this same High Priest will never leave us nor forsake us.
Empathy – for the pain of others.
We have no record of Jesus feeling sorry for Himself or dwelling on any of His personal suffering. For instance, He didn't talk for months about that trying time with the devil in the desert (John 4:1-11) or constantly dis the people whom He served who left Him once the handouts stopped. He didn't rouse up personal support from His disciples after Judas betrayed Him. Instead, Jesus was empathetic toward others and the physical and emotional pain theywere experiencing.
As much as Jesus suffered physically through His arrest, torture and crucifixion, His heart and mind was on the emotional pain His mother was experiencing as she witnessed the torture and death of her firstborn son. Her care and provision after His death was paramount on His mind (John 19:25-27). Do you hurt along with others when they hurt physically, emotionally, and spiritually? Jesus never minimized anyone's pain, compared it to someone else's ,or told someone "don't cry." He hurt along with them.
Forgiveness – in the face of betrayal.
Prior to being arrested, Jesus told His disciples that all of them –not just Judas — would fall away that night because of Him (Matthew 26:31). They essentially deserted Him during His darkest hour even though just hours earlier at dinner they had each claimed they would never leave His side. Yet, Jesus extended grace toward all of them after rising from the dead. He even made sure that he reiterated His love for Peter threetimes – the same number of times Peter denied His love and even knowledge of Jesus!
Jesus commanded us to be different from the world and love our enemies and pray for those who persecute us (Matthew 5:43-44). How much more difficult it is to love and forgive someone who at one time confessed their love for you and then betrayed you? Can you extend grace, love, and forgiveness even to those who have wronged you in a very personal way? When you do, you are expressing the same love, grace and forgiveness that Jesus showed.
Which of these emotions do you need your Savior's help or understanding with? I'd love to know in the comment section below so I can pray for you. I'd also like to give away a copy of my comforting devotional, God's Whispers to a Woman's Heart, to one of you who leaves a comment (U.S. residents and American Post Office boxes only, please).