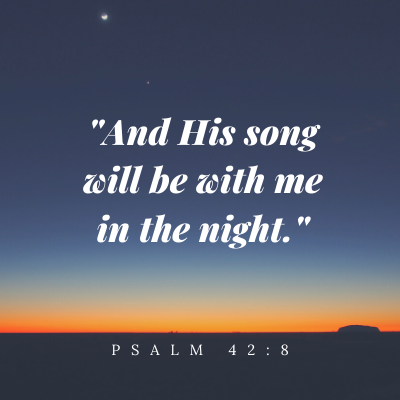 Do you have a favorite song that has helped you through a relationship breakup or a challenging season of life?
Songs can penetrate the soul and speak to us in a way that sometimes nothing else can. The Bible is full of songs, originally set to music and written by songwriters who felt many of the same emotions you and I feel today. Some of these songs have helped me through some really challenging seasons of life.
Like a favorite song of yours during a hurtful time in life, or a touching memory that continues to comfort you when you're sad, the Psalms (songs) in the Bible can encourage, heal, convict, instruct, and minister to you, regardless of your circumstances. Here are three powerful, God-inspired songs to help you get through life – and I'm guessing they'll soon be your favorites, too:
Psalm 13 – A Song for Getting Back on Your Feet
Life takes a lot out of us at times. There are days you may feel that everyone – including God – is closing off from you. Do you realize the songwriters of the Bible felt that way at times, too? In Psalm 13, David asked, "How long, O Lord? Will you forget me forever? How long will you hide your face from me? How long must I take counsel in my soul and have sorrow in my heart all the day?…" (verses 1-2, ESV). He was clearly on his face in pity.
Then, he got up on his knees to pray: "Consider and answer me, O Lord my God; light up my eyes, lest I sleep the sleep of death…lest my foes rejoice because I am shaken" (verses 3-4). Finally, in verses 5-6, he was up on his feet – in praise, singing, "But I have trusted in your steadfast love; my heart shall rejoice in your salvation. I will sing to the Lord, because he has dealt bountifully with me."
What happened to move David from lying flat on his face to standing upright on his feet? What took him from pity to praise? Prayer. Reflect on Psalm 13 as a reminder of how to get back up on your feet and start praising God again, especially when you feel like He's forgotten you.
2. Psalm 42 – A Song to Straighten Out Your Thinking
The Sons of Korah gave us this gem that you might recognize from a contemporary worship song: "As the deer pants for the water brooks, So my soulpants for You, God. My soul thirsts for God, for the living God; When shall I come and appear before God?" (verses 1-2, NKJV). This song teaches us that a desperation for God is a healthy detour out of despair and depression.
In verse 5, the psalmist starts asking himself why he is so disturbed: "Why are you in despair, my soul? And why are you restless within me?" Then he gives himself a swift kick in the pants, per se, by telling himself what to do: "Wait for God, for I will again praise Him for the help of His presence." He then recounts God's goodness and continues to tell himself what to focus on: "The Lord will send His goodness in the daytime; And His song will be with me in the night…" (verse 8). He concludes his song in verse 11 by again asking himself why he is so restless, and then giving himself his own best advice: "Wait for God, for I will again praise Him for the help of His presence…"
The inspired and ever-potent Word of God offers wise counsel when it comes to getting out of the mode of stinkin' thinkin'. Re-read Psalm 42 as a reminder of how to get your thoughts back on track if they start taking you down a dark tunnel of despair.
3. Psalm 62 – A Song to Simplify Your Heart
We live in a culture that wants God plus something else in order to be content. God plus wealth. God plus marriage. God plus a fulfilling career. God plus grandchildren. God plus a successful ministry. Yet David shows us in Psalm 62 what it's like to be satisfied with God only.
David sang "My soul waits in silence for God alone; From Him comes my salvation. He alone is my rock and my salvation, My stronghold; I will not be greatly shaken (verses 1-2, NASB). A few verses later he reiterates the source of his hope and trust: "My soul, wait in silence for God alone, For my hope is from Him. He alone is my rock and my salvation, My refuge; I will not be shaken" (verses 5-6, emphasis added). Can you drop the expectation of anything else and wait for God only, rest in God only, find your joy in God only? Return to this Psalm and reflect on it often, and it will change the course and passion level of your heart.
Which of these songs might become your new favorite? I'd love to hear your thoughts in the comment section below.
(For more on drawing closer to God and sensing His presence during silence or disappointment, see my books, When God Sees Your Tears, God's Whispers to a Woman's Heart, and Letting God Meet Your Emotional Needs.)