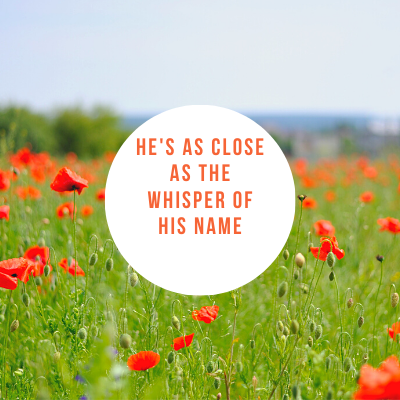 Do you sometimes feel like God is far away?
Heartbreak, struggles, unanswered prayer, or just filling your schedule with everything but Him can make you believe God is distant. But Scripture abounds with evidence that He's a relational God who wants to be up close and personal with you.
Psalm 139 assures us that God knows every detail of our lives and in verses 7-12, we read there's nowhere we can go outside of His presence and away from His watchful eye. Furthermore, Hebrews 13:5 tells us He will never leave us, nor desert us. So, when we feel He's far away it's often an indicator that we need to put ourselves in the position where we can sense His presence, hear His voice, notice His work around us, and invite Him closer to our hearts.
Here are four ways you can notice God is right next to you:
Take a Divine Pause
Sometimes we can't sense God's presence because there's too much of everything else going on. Too much noise. Too much traffic. Too much confusion. Too much anxiety. Too many voices and thoughts running through our minds. Center your mind on Him (Colossians 3:1-2) and start to breathe deeply. Try it. Exhale the distracting thoughts. Inhale a desire to sense His presence. Exhale your pre-occupation with self. Inhale a desire to know Him more completely. Exhale the worries of the moment. Inhale His peace. Now, don't you feel closer to His heart already? There's a reason His Word says "Be still and know that I am God" (Psalm 46:10).
2. Whisper His Name
There are times we need Him but we just don't know what to say or where to begin. Start by saying His name and then speak your heart's cry. Scripture says there is power in the name of Jesus, not only because "Salvation is found in no one else, for there is no other name under heaven given to men by which we must be saved" (Acts 4:12), but because Jesus responds to His name when His loved ones call to Him.
The writers of the classics called this type of whispering cry "breath prayers." My breath prayers to sense His presence are "Jesus, I need You" or "Jesus, give me a heart for You." Calling His name just as often as we breathe is one of the simplest ways to sense His presence. And I believe the simplest of cries are the ones that penetrate His heart –and ours – the quickest.
3. Read His Word Aloud
God speaks to us through His Word. And one of the best ways to sense His presence is to get into His Word and ask His Holy Spirit to guide you into a better understanding of it. When you get into God's Word, and even speak it audibly, you will sense its power and His presence. The Bible says God's Word is "living and active and sharper than any two-edged sword" (Hebrews 4:12). That sharp sword will prick your heart through conviction, inspiration, enlightenment, or determination. A pricked heart is better than a numb, dull, or complacent heart any day, so get into His Word and find Him there. 
4. Start Praising Him
God inhabits the praises of His people. Ever wondered why you sometimes feel closer to God when you're in a church service, singing hymns or praise songs? It could be because that's where worship tends to take place. But you don't have to be in a church building or even with other believers to worship Him. Worship is praise and acknowledging His "worth ship" wherever you are and in whatever situation you are in. Worship is surrender. Worship is giving Him your time, talents, and treasure.
When you start praising Him, regardless of where you are, you'll sense His presence, probably because you're no longer focused on yourself, but on Him. When we open the door of our hearts to love Him, He will meet us there. Every time. 
For more on sensing God's presence and listening for His voice, see my book, God's Whispers to a Woman's Heart.