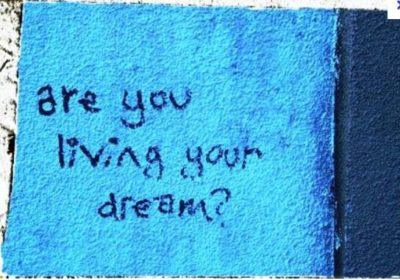 I remember feeling very discouraged that I would never be able to live my dream.
My husband, a young Bible college graduate, had just turned down a job in a nice area of Orange County, CA where he would've worked as an associate pastor for the son in law of my favorite Christian author. That was supposed to be my connection, my "open door" into the world of Christian publishing. There went my quick ticket to realizing my dream.
But God often does something completely different than we expect when it comes to opening the door to our dream.
My husband, Hugh, instead took a pastoral job at a tiny church in an out-of-the way community on the back side of the desert.
For six years I wrote and taught women's Bible studies at this tiny little church and wondered, at times, if God had forgotten about my dream to write books.
Then one weekend, my husband asked me to cook dinner for a couple who was visiting for our church's missionary conference. And that's when I knew God had forgotten about me!
You see, I don't cook. At least not very well. But I wanted to please my husband, and God, and (prayerfully) this couple who came to my home for a lasagna lunch. When our guest asked me during lunch about my "giftedness" and where I served in our little church, I knew he must've been hoping I wouldn't say "cooking."
I told him what was on my heart: "I'm a writer. And I'm writing and teaching Women's Bible studies that I hope will one day be published into books."
This man, who sat at my table eating my so-so lasagna, told me his son in law was the Senior Editor at Harvest House Publishers. I got his permission to send my book proposal to his son in law who eventually became the champion and editor of my first book… and the next 14 books to follow!
That was 16 years ago. And today I can only laugh as I realize that God knew all along WHICH son in law was going to be the gate-keeper to my dream. Not my favorite author's son in law, whom my husband almost went to work for in posh Orange County. But the son in law of a missionary who would visit a humble little church in the "sticks" of barren Riverside County.
I realize now that God was looking for an obedient heart…one that would wait for His timing, serve in His location, and learn the things He wanted her to learn "in the desert."
I, on the other hand, was hoping for a quick ticket to publishing through a high-profile connection. God wanted me to see HE was my connection in every way I look at it. 
I am so grateful today that God took me the long route…through the back side of the desert where He showed me — beyond a doubt — that He is the One who opens the doors, brings the connection, and ultimately causes our dreams to come to fruition.
Scripture tells us "Commit your works to the Lord and your plans will be established" (Proverbs 16:3). Develop an obedient heart. And trust the process God takes you through. He knows exactly how He will bring YOUR dream to fruition.
What unexpected thing is God doing in YOUR life to bring about your dream? I'd love to hear about it.