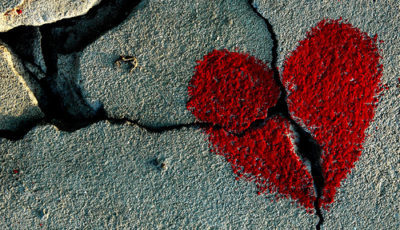 Have you ever asked if it was time to let go of your marriage?
After writing a post on what I've learned after 25 years of marriage, I received  a question from a reader that broke my heart. It was a question I hear far too often from women who are weary in well-doing when it comes to their marriage.
The question was "How do you know when it's time to let go of your marriage?" The woman asking the question was  tired of being the only one fighting for her marriage. She was weary of "always trying to do the right thing."
I understand when a wife says her husband is emotionally distant. I understand it gets trying and wearisome when you feel you're the only one who is working on the marriage. I understand unmet expectations, disappointments, and dashed dreams. And I understand the feeling of "I just can't do this anymore." I'll tell you why.
I understand because I, too, am married to a man, a human, a sinner by nature. And I am also a sinner by nature. So the first, most natural thing to do in a marriage when we're experiencing hurt or feeling weary is to fall back into our fleshly thinking (before Christ made us new) and say "I've had it. I just can't do this anymore. I'm ready to let go of my marriage."
But that's where God comes in. You and I cannot be women who "let go" of our marriages — at our initiation — and women who trust God, unswervingly, at the same time.
Let me explain.
To answer the question "When is it time to let go?"one has to answer two other questions:
Am I a person of my word?
Am I willing to surrender to God, regardless?
Every wife faces, at one time or another, the realization that her expectations were not met. That's because every man will eventually disappoint us. Every man will appear to not be working at the marriage, at times. So the question comes down to: Are we women of our word?  If you and I made a legally and spiritually binding promise to our spouse in front of God and witnesses, then we must be women of our word and keep that promise. As far as it is up to us, we need to hold to that promise for better or for worse (and this might be the worse), for richer and poorer (and stress is always higher when you're poorer), in sickness and in health (and there are times we see that "sickness" we each have, just a little more clearly) til death do us part.
The second question is "Am I willing to surrender to God, regardless? " There is a reason God said in Malachi 2:16 "I hate divorce." The dissolution of a marriage was never God's idea.  Scripture tells us it was allowed under the Mosaic law because of the "hardness" of the Israelites'  hearts.  Divorce results when one hardens his or her heart and no longer wants to honor the commitment made to the other. And sometimes, divorce occurs because one or both of the parties believe their problem is "irreconcilable." Could that be the point at which you surrender completely to the God of reconciliation and say "I can't do this, God, but You can do this through me"? I fear ever implying that the sovereign God who holds together the universe cannot hold together a marriage. Therefore when we come up against what looks impossible, we have to look to the God of the impossible. Otherwise, how can we call ourselves people of faith?
God gave us the marriage covenant so we would be able to understand His unconditional covenant with those whom He loves. He models for us what marriage looks like. God never says "Enough!" or "I'm too tired to go on" when it comes to the many times you and I have disappointed — or even betrayed — Him. He never claims He has "lost that loving feeling" toward us. He is our Everlasting Savior who will honor His everlasting commitment to never leave us, nor forsake us, no matter what we do (Hebrews 13:5).
Can you imitate that kind of love toward your husband, no matter what he does? That is surrender. That is obedience to God, regardless of the cost. And that is dying to self for the sake of the marriage and for the sake of the One who has died in your place
I know these are tough words….and I know there are circumstances and variables in every marriage. But my prayer is that you will understand that God will allow whatever it takes in our lives to transform us and make us more dependent on Him (and that goes for husbands, as well as wives). He will also allow us to go through whatever it takes to glorify Him.
So, when faced with a question like "When should I  let go of my marriage?" we need to respond by asking ourselves: "How can I glorify the God who died in my place? By letting my marriage go? Or by trusting that God will get me through whatever He is allowing in order to transform me for His glory?" (Romans 8:28-29)
My prayers are with every woman reading this and struggling with this question. You are not alone in your situation. Your God goes before you…and He's able to get you through.