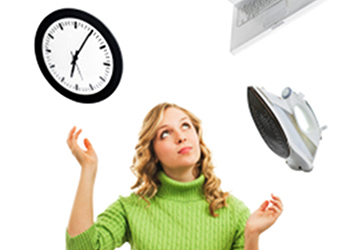 Are you finding yourself over-scheduled and stressed out? Do you wish you could spend more time at work or activities that make your heart sing?
Just about every woman I talk to struggles with busyness and stress. The problem is we can be as stressed and busy as we let ourselves become. Most of the time stress rears its ugly head in my life when I've taken on too many commitments that are not within the realm of my dream and purpose. It's easy to over commit ourselves when we see opportunities in front of us or obligations pressing in on us. But if you know what your calling is, you will know when to say "no" and when to confidently give your "yes."
After saying "yes" to too many things for which I should've said "no," I came up with three questions that I now run by myself in order to gauge if an opportunity is related to my specific calling, or if it's something I should confidently pass up, to avoid over commitment and eventually, burnout.
When there's a dream on our hearts, or a burden we feel we must pursue, or we're simply asked to do something, we have to figure out if it's what we'd like to do, or what someone else would like us to do, or if it's what God is calling us to do. You can determine the answer and gain discernment by asking yourself these three questions:
1. Is this something someone else can just as easily do?
If so, then maybe you are not necessarily being called to do it. All through our Christian lives, we will see opportunities to fulfill needs and we should help to do so if we are able, along with fellow believes. Serving others should be a part of our lives, but such service won't necessarily be the same as a special calling. If we don't put parameters around our volunteer hours we will do whatever comes up and find ourselves over-scheduled and lacking joy. But if you focus on what only you can do, a sense of purpose will come into the picture. The calling God has on our lives is often something only you can do.
2. Is this something I have a strong heart's desire to do?
God generally calls us to a task we would enjoy doing, or that matches some of our natural abilities or areas of spiritual giftedness. And He'll often call us toward something that for awhile has been burning on our hearts. If you have a conviction about taking action in a certain area, that may be God calling you forward. But if you are feeling guilty because no one else is doing something, that may be a tendency of yours to rescue a situation, not necessarily a calling on your heart by God. I often tell others "If you don't like children, don't volunteer to work in the church nursery. You'll be miserable and so will the children." On the other hand, if your heart is stirring for an opportunity and you can't wait to jump in, it may be something God is leading you toward.
3. Is this something I feel God prodding me to do?
Sometimes that conviction on our hearts simply won't go away – the need is very apparent, and no one else is stepping forward to meet it. When that happens, lift the matter to the Lord in prayer. If the burden persists, then it may be God nudging you to take the lead in that situation or fulfill the need. Feelings of inadequacy don't count in this situation. If God is calling you to do something, He will equip you in spite of your weaknesses. (Those stories are all through the Old Testament.) God often wants to do through you what is beyond you.
When you take these questions to the Lord and say "God, please confirm to me if I am the one to do this" and then wait for His answer, you can be more certain that you are called to a specific task and that you aren't just filling your schedule with something else that's going to stress you out or wear you down.
So what if you clearly know that a few things on your plate are not related to your calling? Then that's the time to pray for a way to graciously let some things go. Being in a situation, and being stressed isn't beneficial to your situation, to you, or to others. However, when you are living out God's specific plans and purposes for your life, there's no such thing as burnout, stress and frustration.
Pray about your decisions. Have a willing and obedient heart to go where God leads, but ask Him for discernment to recognize His leading and the ability say "no" if it's going to keep you from doing what God has designed you to do. Proverbs 16:3 says "Commit your works to the Lord and your plans will be established" (NASB).
Live wisely this week…and know what it is you are truly being called to do.
For more on living your calling, see Cindi's book, When a Woman Discovers Her Dream.