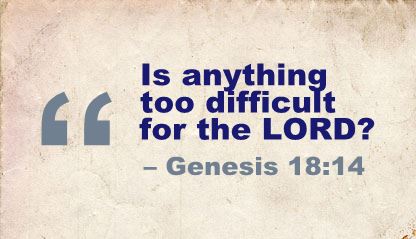 What seems impossible that you are waiting upon God to accomplish?
While we can easily be hating the waiting, I encourage you to embrace the adventure of waiting upon God for your "impossible." When we are in the midst of waiting, God is often in the midst of doing His best work.
When God told 99-year-old Abraham that his 90-year-old wife would conceive and bear a child — within a year — his wife laughed at the possibility.
But it wasn't just a possibility. It was a promise. And God wasn't smiling at Sarah's reception of his promise as a joke.
God's response to her unbelief was:
"Is anything too difficult for the Lord?" (Genesis 18:14).
God seems to specialize in doing the difficult, arranging the impossible, accomplishing the unfathomable. The only problem is, we don't like being in the portion of His project where everything still looks difficult, impossible, and unfathomable. Yet, while we're waiting, God is building in us a dependence on Him and a better idea of what it means to trust in His timing.
Here are some of the "impossibles" that I'm waiting upon God for right now:
* A full-time job for my husband in a field where he is working part time and there are currently "no full-time openings."

* A living situation for my daughter, near her work, so she doesn't have to make a daily commute in Southern California traffic that could last anywhere from 1 1/4 to 2 hours!

* Inspiration and ability to complete a difficult book to write in what seems like an impossible amount of time.
It's easy to pray for the possible and the probable:
Lord bless our food and the conversation around this table.

Lord, do your will in the life of my child.

Lord heal me of this cold quickly so I can return to work.
 But how often do we give God a challenge that represents what He really CAN do?
How often do we pray for the seemingly impossible, remembering God's words: "Is anything too difficult for the Lord?"
I want my prayers to be consistent with how big of a God He is, don't you?
The greater the challenge, the more glory He receives when you tell all of what He has done.
What is your "impossible" that you need God to accomplish this year? Please let me know in the comment section below so I can partner with you in praying for that.