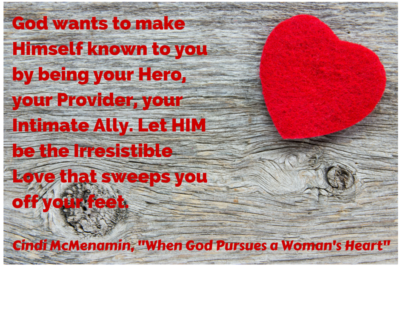 Have you ever thought about what kind of Valentine's Day card you might pick out for God?
I got to thinking about that the other day.
Scripture refers to God as our heavenly "husband" (Isaiah 54:5), so after many years with Him, would I get Him the card that says "You're Still my Knight in Shining Armor"?  After all, He truly is my Perfect Prince.  It's true He's never let me down and like the cards say "I can't imagine my life without Him."
Or would it be more appropriate to choose a card that talks about "weathering the storms together" and knowing that through it all His love has been there?
Every beautiful, romantic line I read in a greeting card is true of the Perfect Love,  the Lord Jesus. In fact, picking out a card for Him would be quite easy.
But what  if God were picking out a card for you or me? What if He wanted to express His sentiments to us after "all these years together"? You know, He already has…in several places throughout Scripture:
God has given us the romantic card: "I have loved you with an everlasting love; I have drawn you with loving kindness" (Jeremiah 31:3).
He has given us a card about sacrificial love: "Greater love has no one than this, that he lay down his life for his friends" (John 15:13).
He has given us a card of encouragement and support: "Never will I leave you; never will I forsake you" (Hebrews 13:5).
And I can't help but think He would love to give us a funny card that reminded us, in spite of our actions at times, that He's never lost His heart for us.
To be honest, God would have every right to give me a card that said "In spite of the mess you've been most of your life, amazingly, I'm still here." Yet, instead of boasting on Himself, He would probably continue to dote on me instead, saying something like: "Your heart is still as precious to me as it's always been."
In Psalm 139:17, David, the Psalmist, sang: "How precious to me are your thoughts, O God! How vast is the sum of them! Were I to count them, they would outnumber the grains of sand…."
How much does God love you and me? He has said, in so many words, "let Me count the ways."
It's obvious that when it comes to a relationship with God, He's the shining star. He's the One who "puts up" with us. He's the One who patiently endures the relationship. He's the One who never gives up. He's the One who is committed to the end, who has secured our happily ever after with His own life. He's the One.
Would you like to open a card this Valentine's Day and read of your True Love's heart for you?
Don't let another day go by without realizing…and appreciating…just how much He pursues your heart. And this Valentine's Day, why not pick out the perfect card for HIM? Or better yet, write one out for Him in your own words and put it in a place where you can read it over and over again, and remember just how much He has pursued your heart.
He's the One. Now let Him know.
What one phrase would you write in a card to the Lord for Valentine's Day? I'd love for you to let me know in the comment section below.