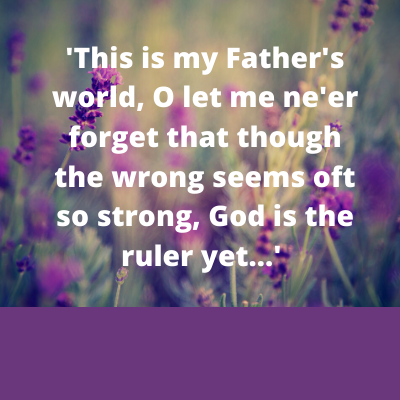 On Sunday afternoon I was walking a neighborhood trail and enjoying the beauty of the sunshine, the clear blue skies, and the bright colors of God's creation when it occurred to me I could be killed a lot quicker by something other than the Coronavirus!
As I stepped across a rain gutter to take a picture of some beautiful bright fuchsia flowers, I began singing an old hymn:
"This is my Father's world, and to my listening ears all nature sings and round me rings…" but it wasn't "the music of the spheres" that was ringing in my ears at that moment. It was the unnerving sound of a rattling. (I actually thought it sounded like someone raking leaves on a sidewalk.)
I turned toward the noise and saw directly behind me a red diamondback rattlesnake, coiled and ready to strike!
I quickly stepped away from the gutter and maintained at least a "six-foot distance" when I realized what could've easily happened. What if I had stepped into the gutter (and not over it) and stepped right onto that snake?" I snapped a pic of the snake and sent it to my husband who alerted the other city rangers that a rattler was spotted on the trail near the homes. (Here is the actual pic below.)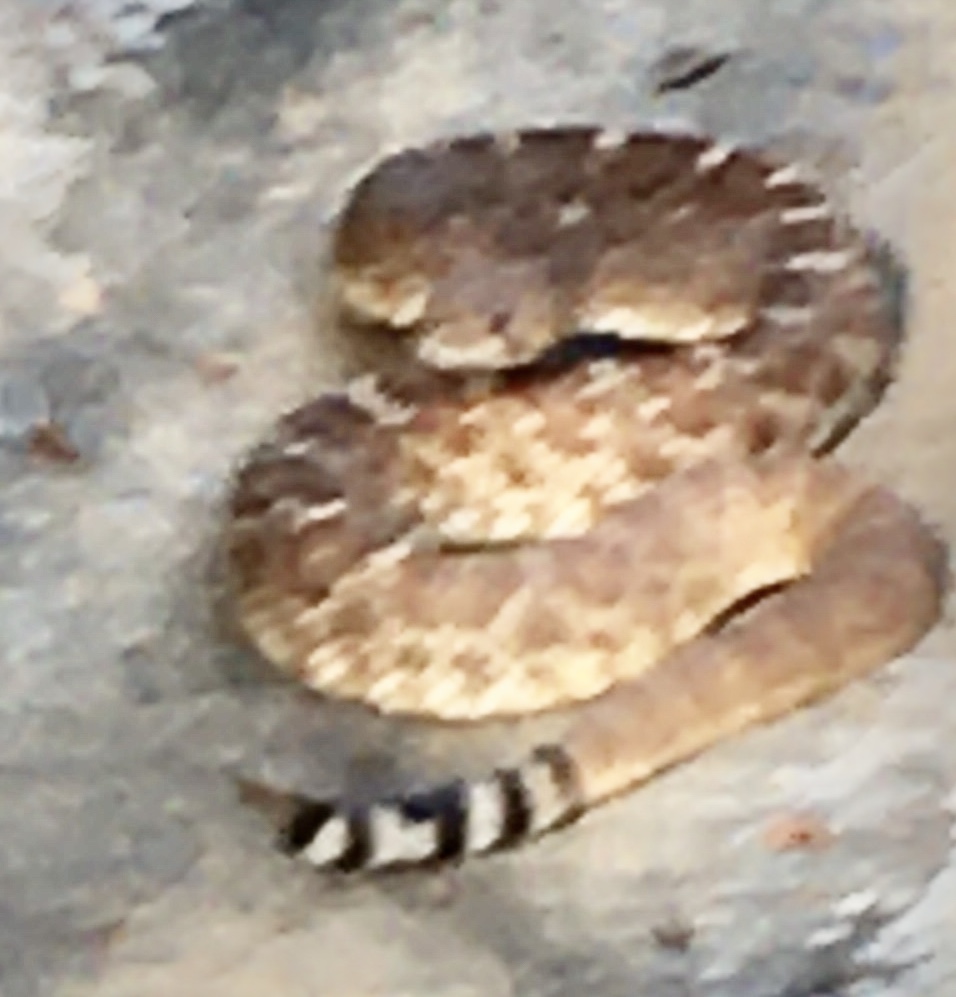 During the rest of my walk, I thought about the life application of that incident because that's what my writer's mind does — it looks for the parallels and spiritual lessons everywhere. Just as I was praising God — by singing that hymn as I sought to shoot a pic of the flowers — a snake was ready to strike. And that's often what our enemy does. He wants to take us out when we're giving glory to God. He doesn't want us praising God and if he can strike at us while we're up he can shove us back down again.
Maybe during this time of "sheltering-in-place" you feel struck down just as you are beginning to look up. Maybe each time you get your hopes up, you're disappointed. Perhaps it's difficult to find hope at all. But, that's a great time to remember the third verse of that old hymn:
"This is my Father's world, O let me ne'er forget that though the wrong seems oft so strong, God is the Ruler yet. This is my Father's world: Why should my heart be sad? The Lord is King: let the heavens ring! God reigns: let earth be glad."
I also thought of the third verse of another old hymn about our God who is a mighty fortress:
"And though this world, with devils filled, should threaten to undo us, we will not fear, for God hath willed His truth to triumph through us: The Prince of Darkness grim, we tremble not for him; his rage we can endure, for lo, his doom is sure; one little word shall fell him."
Scripture tells us our enemy who seeks to strike is not nearly as powerful as our God who protects us. Although it looked like a close call with that rattlesnake, my protection was evident once again. (That wasn't the first time I've come upon a rattler because I wasn't watching where I was walking!) Praising our Maker is our best weapon of defense. Praise doesn't bring on the attack, I tend to think it protects us within it.
When you hear the rattle of Satan's attempts to take you out, remember "Greater is He who is in you (Jesus) than he who is in the world" (1 John 4:4) and "If God is for us, who can be against us?" (Romans 8:31). As the song says, "one little word will fell him" and that "one little word" is the powerful name of Jesus.
Keep praising Him, in season and out, my sister. (Just be careful where you step. It's not only Springtime, but In California and other dry places, it's also rattlesnake season.)
For the next three days, you can still get a copy of Women on the Edge and Drama Free for only $5 each (plus shipping) in my website store. Sale ends May 1.