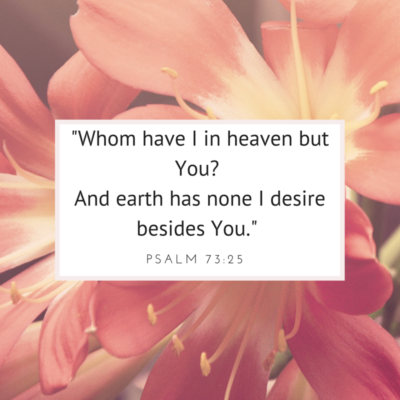 Do you have that  inconsolable longing to be truly and deeply known?
As a young wife and mom, I copied a verse onto a note card and put it on my refrigerator more than 20 years ago. It served as a comfort to me then and remains a challenge to me even today:
"Whom have I in heaven but You? And there is none upon earth that I desire besides You" (Psalm 73:25, NASB).
That verse reminded me years ago that I have an Advocate in Heaven. And He is mine.
Who do I have but You, God? It is more than a question or even a statement. It is a motto. And I have reminded myself to live by that motto ever since.
Through unmet expectations of friends, the struggles in marriage, and the disappointments of life, I've come to learn that we all have an inconsolable longing — a longing to be truly and deeply known. And through the years, I have learned to be at peace knowing that longing will never be met this side of heaven. I will never be known by my husband, my child, my closest friend, as I really am. But I am known to God.
My inconsolable longing on this earth increases my yearning for Heaven — for true oneness and intimacy.
Only You, Lord, are perfect. Only You are incapable of disappointing me.  Only You can satisfy. And only You can know me intimately.
When I focus on my inconsolable longing it can make me sad. But when I focus on Him, I realize the reason for my existence and often the reason for my loneliness: He wants to be the One to whom I cling.
To whom do you go when nothing else and no one else will satisfy? Where do you take those longings that remain unmet? There is One in Heaven waiting to fill the inconsolable longing in your heart as well. May you, too, be able to say as the Psalmist did: "Whom have I in heaven but you? And earth has nothing I desire besides you."
Lord, thank You that my inconsolable longing is truly consolable in You. You are the Only One who really knows my heart and can meet me in the place where I most need to be met. Although my heart and flesh may fail, "You are the strength of my heart and my portion forever (Psalm 73:26)." Thank You that I have an Advocate in Heaven…and He is mine.