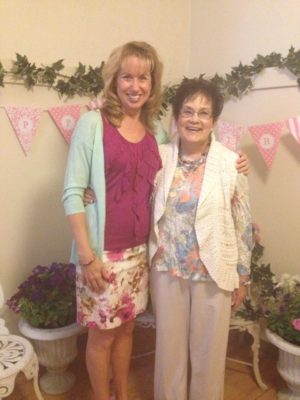 Do you ever think about the kind of legacy you will one day leave?
Now that I'm older (I hit half a century this year!)  I think about it more often than not. And while I used to think it amounted to how many people I spoke in front of or how well known I might become,  I realize now that legacies are made of something much simpler…and often less  noticeable.
The people who leave a lasting impact on this earth aren't the ones who made lots of money or lots of headlines. They are  the ones who took the time to serve others and left imprints on individual lives…one at a time.
I had the opportunity to speak in my home town this past weekend –in the same church I grew up in. It was the place where I first learned of Jesus, was baptized, and grew in my knowledge of God and His Word.  I had been back many times before to speak, but THIS time I got to thinking about legacy….and I got a visual of how "what goes around comes around" in the name of Jesus.
As women arrived at the luncheon to hear me speak, I saw many familiar faces. Good friends I'd grown up with who are now grandmothers. Women who were my age when I knew them and are now great-grandmothers! And I was struck with a particularly humbling thought:  many of the women who attended the luncheon, like Mrs. Rosser,  had poured their lives into me when I was a child. They taught me of the love of Jesus, and  helped me form a solid biblical foundation. And now those same women were sitting in the chairs waiting for me to minister to THEIR hearts.
What an awesome privilege to pour back into the hearts of the women who once poured into me. And it occurred to me that they were hoping I'd tell them something about leaving a legacy, but they had already left one…for me.
Leaving a legacy is not about writing books or speaking nationally or doing something that makes headlines in the local newspaper. It is the imprint you leave on the lives of your children, your friends, that person in the office whom no one else noticed, the checker at the grocery store whom you were able to encourage.
It also occurred to me that a legacy is not something we LEAVE one day…it's something we LIVE right now.
How can you begin to live a legacy that impacts others?
Take time to invest in the people around you by listening, giving, serving, as the Spirit of God prompts.
Become involved in your local church. As you take part in the body of Christ, you impact more believers than you can possibly imagine.
Ask God every day to give you an opportunity to show simple acts of love.  You may be surprised how far one act of grace, one kind word, or one loving touch might go.
First John 3:18 in The Message tells us:
"Let's not just talk about love; let's practice real love."
What is one way YOU can invest in the lives of others and show real love wherever you are? I'd love to hear it in the comment section below.