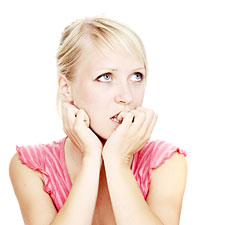 What if I told you that breaking the worry habit is easier than you think?
Last week I gave you the ABCs to start your journey of being worry-free:
Admit you and I are not in control.
Believe God only wants the best for you
Commit yourself to a deeper knowledge of God.
This week I have the next few letters of the alphabet to help you apply Philippians 4:6 to your life and not worry about anything, but instead pray about everything.
Depend on God to do what you can't. Worry says "I must handle this myself." But trust says "God, only You can truly work this through."Leave it in His hands and watch the worry and stress fade away.
Expect Him to come through for you. Philippians 4:6 instructs us to not worry about anything, but instead pray about everything, thanking God for all He has done. That tells me we should be thanking God ahead of time for all we are trusting Him to do on our behalf. That is faith…the assurance of things hoped for, the conviction of things not seen (Hebrews 11:1).
Focus on the truth, not the "what-ifs." The truth is "with God all things are possible" (Matthew 19:26, NASB). The truth is He will never leave us nor forsake us (Hebrews 13:5). The what-ifs are the scenarios our mind conjures up when we forget the truth of Who God is and what He is capable of.
This week I am depending on God to do through me what is beyond me. I am expecting Him to come through in the amazing way that Only He can. And I am focusing on the truth of WHO He is and WHAT He can do, rather than the what if scenario as if there were no God in control.
What are you depending on God to do, in particular, this week, this month, or this year? Let me know in the comment section below so I can join you in praying and trusting, rather than worrying.