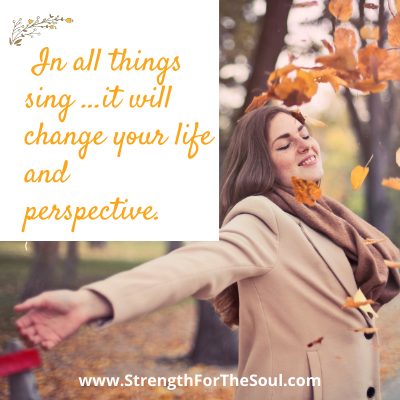 I'll admit it. I've been ragging on 2020. Who hasn't? Worst year ever! I mean, could things get any worse?
And then Psalm 118:24 convicted my heart: "This is the day which the Lord has made; Let us rejoice and be glad in it."
It occurred to me that this is the YEAR the Lord has made; let us rejoice and be glad in it.
It's a little difficult to rejoice during a pandemic, and in protests, politics, wildfires, natural disasters, global climate change… the list goes on. Yet, is God on the throne or is He not?
I had to go back to something I taught years ago that God wanted me to relearn.
In all things, sing.
In First Thessalonians 5:18, we're told: "In everything give thanks; for this is God's will for you in Christ Jesus" (NASB). In other words: In all things, sing.
Singing brings a smile to our faces. We tend to sing when we're happy. But singing when we're stressed or discouraged or depressed…now that can help pick us up and keep us in perspective. Praising God in our pain, during a pandemic, and in the middle of confusion and chaos? That is godliness.
That's because singing is biblical. That's right. Singing is the most reiterated command in the Bible. Throughout Scripture, we're told to sing:
"Sing to the Lord, you saints of his…" (Psalm 30:4)
"Sing praises to God, sing praises…" (Psalm 47:6)
"Come before Him with joyful songs." (Psalm 100:2)
"Sing and make music in your heart to the Lord…" (Ephesians 5:19)
God knew that when we sing, it lifts our hearts, lightens our load, and puts us in perspective. In fact, He told us to sing in all circumstances, as a way of keeping us full of praise, instead of fighting pressure.
In All Things Sing
When I was hurt by a situation in ministry years ago, I played a CD and sang a song about how God carries me. While I was on my way to an appointment I was dreading, because I figured it would be another situation in ministry which wouldn't go well, I began to sing "I love You, Lord" and realized that the situation I was about to enter was a "sacrifice of praise." Though I didn't look forward to the appointment, I headed into it with a heart of obedience. (In all things, sing.) Once when I was frustrated with my husband (about something that was really my fault, I'm sure!), I started to sing, and that reminded me of Who was in control.
How does singing help energize you when you're discouraged, depressed, or running on empty?
Singing lifts your spirits.
Singing exercises your vocal chords, and thereby helps you with your breathing.
Singing is a form of expression and expressing your feelings is healthier than keeping them bottled up inside.
Singing is a form of praise, which helps put all of life in the right perspective.
The Results of Singing
When we sing throughout the day, we become less focused on our troubles. When we sing, we lift up others as well. And when we sing, we are obediently telling God that no matter what this day (or year) holds, we are choosing to praise Him. When we sing in our suffering (or stress), praise Him in our pain, and lift up our voices under the weight of our burdens, we are obediently offering to God a sacrifice of praise that puts us in perspective and lightens our load. Remember the last part of First Thessalonians 5:18: "Give thanks in all circumstances [in all things sing], for this is God's will for you in Christ Jesus." It couldn't be said any plainer. God's will is that we learn to sing in everything…the good, the bad, the mundane, the marvelous. By singing in everything, we are acknowledging Who is in control and living that way. We're keeping a spring in our step and a song in our hearts because we are at peace, not drowning under the pressure.
How much lighter our day would be if we had the motto: "I will sing to the Lord all my life; I will sing praise to my God as long as I live" (Psalm 104:33)!
Keep your soul fresh, by keeping a song in your heart. In all things, sing.
For more tips on how to keep emotionally, mentally and physically healthy during times of stress, uncertainty or well, a pandemic – see my book, When You're Running on Empty, on sale for just $10.99 each through the end of September (or while supplies last).