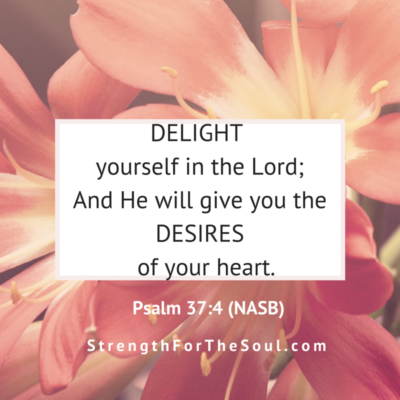 I started thinking today about divine desires.
Do my desires truly please God? Are they from Him? Or are they too much about me?
In  My Utmost for His Highest, Oswald Chambers says:
True surrender is a matter of being "united together (with Jesus) in the likeness of his death" (Romans 6:5) until nothing ever appeals to you that did not appeal to Him.
Wow. To be so united with Christ that we are completely dead to our own desires and totally alive to His. That is my true heart's desire. And yet, I got to thinking about what my desires look like when my focus is not on being united with Christ:
Personal happiness
Relational fulfillment (a great marriage, great family relationships and fulfilling friendships)
Financial security
Success and prosperity
Peace and contentment
To be well liked and admired
And yet, how many of those desires were also the desires of Jesus when He walked this earth?
According to Scripture, Jesus desired:
complete obedience to His Father (Matthew 26:39, 42, 53-54)
uninterrupted time with His Father (Mark 1:35)
to serve others by example (John 13:12-17)
to glorify His Father (John 17:1)
to complete the work His Father had given Him (John 17:4)
protection of what belonged to His Father (John 17:9-11)
In that list of Jesus' desires, there wasn't much room for Him. There was NO room for His personal agenda. He was completely one with God, His Father. So God's desires became His.
In Psalm 37:4 we are told:
Delight yourself in the Lord,
    and he will give you the desires of your heart.
I truly believe that means when we delight ourselves in Him, He places in us His desires and we become His delight — just as Jesus became His Father's delight.
Lord, I want to be so united with You that I am completely dead to myself and my desires and totally alive to You and Your desires. Help me to delight myself in You so that You place Your desires into my heart. May nothing ever again appeal to me that did not appeal to You.
Can you make this your prayer today, too?
(For more on this concept of making God Your sole desire, see my book, Women on the Edge.)