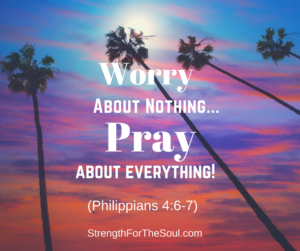 Have you ever wondered what to do when peace seems elusive?
Three women emailed me recently to ask how they can find peace.
One is struggling with an ex husband who won't pay child support. Another lost her job. And a third is waiting upon God for a husband.
Like joy, which at times feels elusive, peace is not about our circumstances. Peace is about leaning into the One who controls our circumstances, and trusting that He knows exactly what He's allowing.
Philippians 4:6-7 tells us how we can experience peace regardless of our circumstances:
"Don't worry about anything; instead, pray about everything. Tell God what you need, and thank him for all he has done. Then you will experience God's peace, which exceeds anything we can understand (NLT)."
Did you notice the three-step formula for peace that is found within that verse?
Step 1: Don't worry about anything. God's Word tells us straight-out not to stress, worry, or be fearful in any situation. Instead we are to…
Step 2: Pray about everything. Nothing is beyond God's ability to govern. So get in the practice of taking everything to Him in prayer the minute it starts to become a burden. Tell Him specifically what it is you need. He already knows. But by telling Him, you are showing Him that you trust Him and are depending on Him. As you do…
Step 3: Express  gratitude for all that you have. Nothing slams us back into perspective quicker than remembering what we have already been given. I keep a ring on the wall next to my desk and add a slip of paper to the ring every time God blesses me with something or brings to my mind something He's done for me or a family member. On days when I begin to feel that life is rough, I glance at that ring. (At the end of the year, my family and I take turns reading each of the slips on that ring at an annual "Thanksgiving to God" dinner that we enjoy together.) As you and I thank God for what He has already done, we will remember all that He still can do. And when we're grateful, we're acknowledging that God is in control and nothing takes Him by surprise.
I love how the Bible points out exactly what happens as we choose to worry about nothing and instead, pray about everything, with a grateful heart:
"And the peace of God, which surpasses all understanding, will guard your hearts and your minds in Christ Jesus" (Phil. 4:7, ESV).

There it is. An incomprehensible peace will form an impenetrable shield around your heart and mind as you keep taking your requests before your Heavenly Father.
Can you follow those steps and find your peace today?