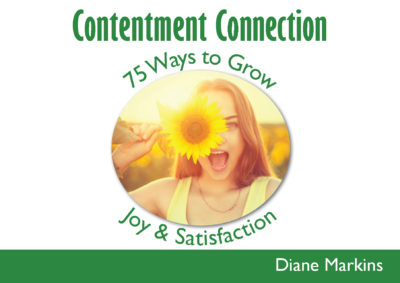 Are the circumstances of life robbing you of true joy and contentment?
Then my friend, Diane Markins, has some encouraging words for you. Having suffered through her own set of difficult circumstances, she still radiates with joy. She is my guest blogger this week. And if you leave a comment at the end of her blog you could win a copy of her newest book, Contentment Connection: 75 Ways to Grow Joy and Satisfaction. 
Here's Diane…
Contentment is a word that brings to mind a cozy blanket on a cold day, a cat purring on your lap, a warm beverage by a crackling fire…
But contentment isn't just a Hallmark Christmas movie. It's a way of thinking and being- every day.
I know that Cindi McMenamin gets this. We share a belief that contentment is possible regardless of the chaos, pain and fear that pops up on any given day.
I'm not just talking in abstract terms. Personal experience bears this belief to be true. In August of 2017 I was diagnosed with breast cancer. I've had three surgeries and may be looking at more. I've been getting chemo treatments since October. I lost a lot of hair, including eyebrows and lashes. I've had days filled with pain and almost no energy. Yet I haven't lost my contentment.
A few weeks ago my father-in-law was going about his regular routine and busy life. He suddenly collapsed, feverish and incoherent. It was determined that he had an infection in his leg (that may have started with a little bug bite!). After battling for a week in the hospital we had to allow doctors to remove his leg above the knee to save his life. He and my mother-in-law have never wavered in their faith or lost their contentment.
Several dear friends are fighting cancer. They are fatigued, in pain, and consumed with the treatments ahead and financial burdens. Each of us knows "our numbers"… statistical likelihood of cancer returning. One sweet friend just found out it's back, now in her bones and stage four. She is a single mom of six-year-old twins. Every day she has to do a re-set to live in contentment, but she does it by choice.
Life has so many unexpected challenges for each of us — illness, death of loved ones, prodigal children, broken marriages and financial stress are just a few. But First Peter 4:12-13 says, "Dear friends, do not be surprised at the painful trial you are suffering, as though something strange were happening to you. But rejoice that you participate in the sufferings of Christ, so that you may be overjoyed when his glory is revealed."
I've come to see that in our culture discontentment is the norm. People are just not satisfied with what they have. We confuse contentment with success or beauty or possessions. "I'll be content when I get: that fancy house, bigger breasts, a faster car or a new spouse." The big problem is that once we get that thing we desire most, something else in our life is lacking and we repeat the cycle.
The Bible tells us to let our convictions, not our circumstances or unmet desires, rule our sense of contentment. True biblical contentment is a belief that Christ's good purposes, power and provision are enough for every circumstance.
First Timothy 6:6-12 says, "But godliness with contentment is great gain. For we brought nothing into the world, and we can take nothing out of it. But if we have food and clothing, we will be content with that."
In my little book, Contentment Connection: 75 Ways to Grow Joy and Satisfaction, I share tips that will re-direct your thoughts and actions away from longing, hopelessness, and dissatisfaction- toward joy, hope and full contentment. I share ways to stop striving for contentment and learn to simply experience and embrace it as the gift God gives us every day.
I pray that you will take a look at your level of contentment and intentionally change course if this is a struggle you face. The Lord's promises apply to you!
In which area of your life is it most challenging for you to be content? Let Diane and Cindi know in the comment section below (along with the U.S. state in which you live) and you could win a free copy of Diane's little book, Contentment Connection.
Diane Markins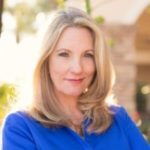 is a sought-after writer and platform speaker, especially for "tweenior women" (between 30 and 65). As a recent breast cancer warrior, she has been living out her mantra: "Contentment in All circumstances." Diane's stories will inspire and motivate you to trust the Lord as you face your own challenges. She has two Amazon Kindle best-selling books, Women in High Def and Contentment Connection (designed as a gift of encouragement). Married to her high school sweetheart in 1979, Diane has two adult children and five little grands. For more info or to purchase her books, go to http://www.dianemarkins.com/published-work/