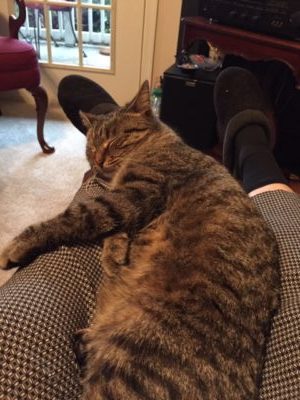 Could you use a reminder of God's presence, a whisper of His love, a comforting reassurance that He has not forgotten you?
My Mom, whose husband passed away last summer after a battle with Alzheimer's Disease, told me a touching story recently that I wanted to pass on to you, especially if you're in that place where you could use an encouraging word to remind you that are not alone.
Here's my Mom's story….and I pray it encourages your heart, too.
"After about five years of living with the daily emotions associated with gradually losing my husband to Alzheimer's, I sat through his memorial service totally numb. It was another five months before I was finally able to reconnect with pleasant memories of who he really was BEFORE that disease took away his mind.
Shortly after his passing, it was necessary for me to have emergency surgery for a herniated disk which was affecting surrounding nerves, making it impossible to lift my leg. For four months I had to use a cane just to walk, which was a humbling experience for me!
About the time I was able to walk again, I realized that — due to the extensive physical pain in my body, the emotional strain of my husband's death, and the myriad of emotions I had been trying to muddle my way through — it was necessary for me to give up my much-loved job as church pianist, which had kept me busy for the past nine years.
Then to top it all off, two months later, my 15-year-old beloved cat, Lady Grey, developed kidney failure and had to be put down. My husband and I had raised her from a 2-week old kitten, and she had been his cat, which I inherited after he passed away.
I loved that sweet, faithful old grey cat, who was always ready to wake me up if I slept too long in the mornings. She was also the one who listened to me frequently cry and daily pray out loud. She was the only living, breathing thing in my lonely little house besides myself! After losing her so shortly after giving up my post at the piano, I cried out, "Lord, what else will you take? Haven't I gone through enough losses by now?"
Two days after Lady Grey passed away, I decided to let an outside stray (but very large!) Tabby come into my house and look around. He had been visiting my patio for the past couple of weeks and appeared harmless and friendly so I had even named him "Jabba" (after Jabba the Hutt from Star Wars, because of how big and lazy he is).
As he snooped around, I sat down in my recliner to paint my fingernails. Suddenly, I felt something strange near my outstretched legs. Jabba had jumped up onto my recliner and snuggled down between my outstretched legs as if he owned me. He yawned widely and promptly fell asleep. I said, out loud, "What is THIS, Lord?" It seemed like the answer came as quickly as I spoke the question: This is My gift for you. I laughed out loud and reached for my cell phone camera to record the moment!
Jabba is still an outdoor cat, but he comes inside once in a while to snoop around. He mostly sprawls out and goes to sleep on one of my patio chairs, where I can easily seem him from my window. Every time I see him sleeping there, I remember hearing that soft inner whisper on my heart: This is My gift for you.
Jesus said "not a single sparrow can fall to the ground without your Father knowing it. And the very hairs on your head are all numbered. So don't be afraid; you are more valuable to God than a whole flock of sparrows" (Matthew 10:29-31, NLT).
If God is aware of every bird that falls to the ground, certainly He is aware of the losses in our lives, as well. And if God can send an over-sized stray cat to cuddle up to me and remind me of His love and care, how much more has He proven His love and provision by sending His Son, Jesus, to be The Answer to all of our questions, pleas, and cries! Never underestimate our all-knowing, ever-present, and ever compassionate God!"
Do you have a story of who or what God sent you, just in time, when you needed to know you were not alone? I'd love to hear it in the comment section below and I know my Mom's heart will be encouraged, as well, to know you could relate. (For more encouragement, see my book, When God Pursues a Woman's Heart, now on sale through April 15.)