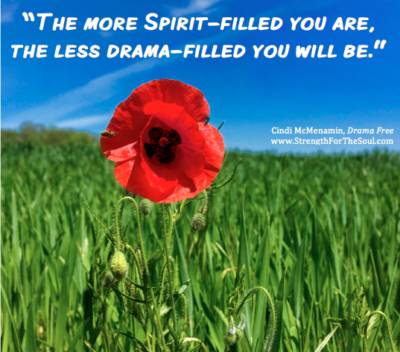 It's happening daily. It's the volatile, divisive world we're living in right now.
A personal accusation, a misunderstanding, careless words, or an action on the part of another rubs you the wrong way and before you know it, you're offended.
Maybe you're the one who unintentionally offended someone else by the words you said and now you're put off or just confused that they are offended. But, how you choose to handle that offense (whether it's yours or someone else's) makes all the difference – or all the drama – in the world.
As I was writing my book, Drama Free, I realized a common reason for drama – especially among followers of Christ – is the spirit of offense and how we deal with it. The spirit of offense is what causes division between people. It's what destroys friendships, breaks up marriages, and splits churches. And it's on the rise right now in all shapes and forms.
The more I examine Scripture, the more I find that a Spirit-controlled woman is not one to give in to the spirit of offense. Proverbs 19:11 says, "A person's wisdom yields patience; it is to one's glory to overlook an offense" (NIV).
Having a strategy for dealing with offensive behavior can not only keep us from unnecessary drama, but it can shield our hearts from being taken captive by the spirit of offense and becoming bitter.
From my book, Drama Free, here are seven smart, but loving, ways to respond when you're offended: 
1. Respond maturely, don't react emotionally.
Are you one who lets everything steamroll you? Do you allow others' opinions to get to you? Do you snap back or pout or plot a way to get even? You and I can't control what others say or think about us, but we can control how we respond. If you know that God's opinion of you is the only one that matters you will be able to respond appropriately and even biblically, rather than react emotionally. Remember, the offense isn't so much about how you feel,but more about how you respond.
2. Realize there is always more to the story.
Much of our offense comes from having too little information. There is always another side to the story. There is always a context within which the story – or the offensive statement or action – occurred. And there is always a back story – what a person may have been dealing with that caused her to say or do what she did to offend you or to react defensively toward what you said about her. Ask God for the discernment to know if you really need to hear the context or the other side of the story, or if you need to just blow it off and move on.
3. Refrain from acting impulsively.
Being impulsive in our words and actions often leads to drama. James 1:19 tells us, "Everyone should be quick to listen, slow to speak and slow to become angry."
As you and I take time to think through our responses we can keep from reacting emotionally and impulsively, which many times escalates drama.
Oswald Chambers said: "Impulsiveness is a trait of the natural life, and our Lord always ignores it, because it hinders the development of the life of a disciple. Watch how the Spirit of God gives a sense of restraint to impulsiveness, suddenly bringing us a feeling of self-conscious foolishness, which makes us instantly want to vindicate ourselves. Impulsiveness is all right in a child, but is disastrous in a man or woman – an impulsive adult is always a spoiled person. Impulsiveness needs to be trained into intuition through discipline."
4. Reflect on any seed of truth.
Within nearly every offense or accusation is a seed of truth. Even if just a tiny one. What might have provoked the offense? Is there something you could've done to prevent it? Get in the practice of taking every offense to God and asking Him to show you what, if anything, is true in the accusation or offense, and what you can learn from it. Sometimes, in the middle of the offense taken or the offense given is a lesson God wants you to see about yourself. Maybe He wants to show you how for forgive and extend grace. Maybe He wants to show you how to take it to Him and not someone else. It's humbling to seek the seed of truth in an offense, but it's essential if we want to grow in Christlikeness.
5. Resist the urge to defend yourself.
This step has been the most helpful to me through the years. I can lose sleep at night trying to defend my image, or waste energy on explanations, defenses, or attempted retaliation. But none of that is necessary when I realize one golden truth: God's got my back.
In his book, Celebration of Discipline, Richard Foster writes:
A frantic stream of words flows from us because we are in a constant process of adjusting our public image. We fear so deeply what we think other people see in us that we talk in order to straighten out their understanding." But, Foster says, when we choose to be silent – putting the stopper on all self-justification – we are showing God and others that we believe He can care for us, reputation and all.
6. Rely on God to protect your name.
There is much freedom in being able to let an offense or accusation fall by the wayside with the mindset that "my name is Christ's. And, therefore an accusation against me is an accusation against Him. And He can defend His name."
Trust God in the midst of the drama and let the offenses of others lead you to a greater dependence on the Lord. As you do that, you'll experience the best kind of drama – the dramatic way in which you will grow in your relationship with – and dependence on – God!
7. Remember it's not all about you.
In Galatians 2:20, the Apostle Paul wrote "I have been crucified with Christ and I no longer live, but Christ lives in me. The life I now live in the body, I live by faith in the Son of God, who loved me and gave himself for me."
Dying to self and living to Christ means identifying ourselves with Jesus. Surely, the offense you are dealing with is part of making you more like Christ, who was offended, mocked and ultimately executed though He did nothing wrong. Take your hurting heart to God and let Him use it to soften you and make you more like His Son.
Which of these steps will you focus on this week to dial down the drama of the spirit of offense that is all around you? I'd love to hear it in the comment section below so I can pray for you and your situation. (And don't forget, you can still get your copy of Drama Free for only $10.49 each plus shipping through the end of June!)