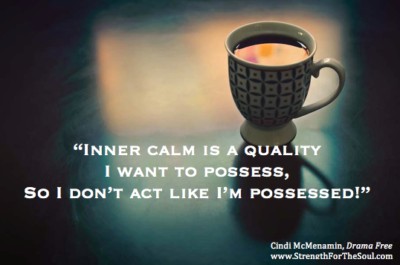 Are you one to crumble at life's circumstances?
Or do you allow them to make you stronger?
When life brings something painful or you simply feel like your life is falling apart, how you respond makes all the difference in the world. You and I can either react emotionally and escalate the drama of the situation. Or we can respond biblically and grow through it.
As I point out in my book, Drama Free, there are two kinds of drama in life: 1) The drama that life brings and God allows; and 2) The drama that we create through our reactions to life's circumstances.
The drama that life brings is inevitable. Yet how we respond to it determines whether or not it will be fruitful in our lives in conforming us to the image of Christ. Our response to the drama also determines whether God gets the glory or we shine the spotlight on our frailties, insecurities, and emotional instability.
With help from God's Word, plus some practical guidance, you and I can be drama free – even when the unthinkable happens. Even when you are clearly a victim. Even when life takes an unexpected turn and you are caught in an overwhelming whirlwind of circumstances that would make any person lose it. Even then.
Here are four ways that you can keep it together when it feels like your life is falling apart. (These four steps spell the word "CALM" which is what you can be if you practice them.)
C – Consider the bigger picture. Life – and therefore every circumstance you encounter – is meant to conform you to the image of Christ. We know this because Romans 8:28-29 tells us: "And we know that in all things God works for the good of those who love him, who have been called according to his purpose.  For those God foreknew he also predestined to be conformed to the image of his Son…." Once you consider this, you can relax and realize God knows what He's doing in the circumstances He's allowing. And you can focus on passing the test, rather than failing it through unnecessary drama.
A – Acknowledge God is in control. You are not at the whim of the weather or the most likely predicted outcome. You are not going to consider "averages" or statistics. You are going to trust the God of miracles and whatever He decides to do or not do, for your greater good. Try taking a look at God's track record in the stories of the Bible. People went through trial after trial, but when they acknowledged God's control and remained faithful to Him in spite of their circumstances, they experienced deliverance, protection, comfort, and peace. God has an excellent track record of honoring those who trust Him.
L – Look for the lesson. The lessons are everywhere. And sometimes they aren't the ones you think. Ask God to show you what He wants you to see in the moment, and then stay tuned to His instruction. I find it is helpful, and a reminder to me that God is working in my life, when I say aloud, "God, show me what You want me to see in this situation" or "Mold me through this, God," or "Open my eyes to the truth of Who You are through this situation and my pain." Maybe your short prayer is simply "Change me through this, Lord Jesus." By acknowledging that God is doing something through our situation, we won't miss the lesson.
M – Make it a point to praise. In 1 Thessalonians 5:18 we are instructed to "give thanks in all circumstances: for this is God's will for you in Christ Jesus." Note that command says in allcircumstances, even the unexpected, uncomfortable, and unwanted circumstances. As we thank God for our circumstances – and for whatever He determines to do through them – it will change our perspective and make us people who anticipate His provision, rather than dread the worst. That is displaying faith, rather than demonstrating fear or doubt.
Which of these steps will you practice to stay CALM in the midst of life's drama? I'd love to hear it in the comment section below.
(Don't miss your last chance to get my book, Drama Free, for only $5 plus shipping cost. Sale on this book — and a few others you might not have yet — ends August. 1.)