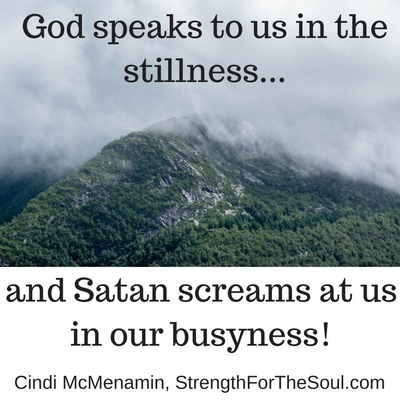 Admit it. You'd enjoy more rest in your life, you just don't know how to get it.
Do you realize God would enjoy more rest in your life, too?
You were created to glorify God and enjoy Him forever. Many times we can't enjoy our relationship with God if we're working too hard for Him in ministry or for ourselves or someone else.
In last week's blog, I wrote about our need, as God's creation, for rest. Today, I want to give you four reasons it's so difficult to make room for rest and silence – and what to do about each one.
We don't trust God enough to rest.
When we rest, we stop doing and we have to start trusting that God will keep working on our behalf as we obey His command, as expressed many times in Scripture, to rest.
God established and modeled a rhythm and cycle for us in six days of work and one day of rest (Genesis 2:2, Exodus 20:8-11). We inherently don't trust that rhythm and cycle because we think our way is better to work all seven days. We get the idea that we have to earn more, work harder, be more productive. Yet, Psalm 127:1-2 exhorts: "Unless the Lord builds the house [or the business, or home, or project], they labor in vain who build it; unless the Lord guards the city [or whatever it is you're concerned about], the watchmen keeps awake in vain. It is vain for you to rise up early, to retire late, to eat the bread of painful labors; for He gives to His beloved even in his sleep" (NASB). As you rest and trust, God provides. It's a principle as old as tithing, and one in which God always comes through.
You can build your trust in God by establishing margin and boundaries into your daily and weekly schedule that allow for rhythms of rest and silence. Even better, write into your calendar 30-60 minutes each day (when you first rise, during your lunch break, at the end of your work day?) when you will spend time with God in rest and silence. It is good practice to trust Him that you'll still get enough done after having carved out time for Him to breathe rest into your day.
2. Our culture drives and pushes us to be more successful and productive.
Busyness is our badge of success today. We enjoy telling people we're busy because it translates to "I'm valuable, productive, and in-demand." We tend to covet these affirmations of self-worth in a society that values over-achievement and outpacing the competition. Again, our trust in God is the issue. Do we fear God (and His command to rest) more than we fear pressure from bosses who drive us too hard, or the young hotshot employees who might take our jobs if we don't outwork them?
Make conscious decisions to cut the "electronic noise" and have a more peaceful mindset by unplugging your mobile devices and only checking email at set times during the day. Don't just put your phone on vibrate. You have been conditioned to respond at a moment's notice to anyone who needs you, but very few people need you to drop everything and immediately be at their beck and call. In fact, don't train people to expect an immediate response from you. Two decades ago, when you weren't available, someone got a voice-mail message and if you were on the phone, they received a "busy' signal. Train people to patiently wait for you so you're not giving them permission to dictate your actions and responses. Only God deserves your immediate attention and response.
3. We don't feel comfortable in the stillness.
We often overwork and avoid silence as a way of suppressing internal issues. Once the music stops, the schedule slows, and the workload falls off, we are forced to get quiet and look at who we are before God, with all the titles, and achievements stripped away. Getting quiet allows us to let God examine our hearts. Quiet reflection also helps us grow and mature if we are willing to learn from it.
When we are alone with our thoughts, in the quiet, it is then that we often have to deal with pain, untended wounds, conviction of sin, or whatever else keeps us from coming to God, openheartedly, and pleading with Him, as David did: "Search me, God, and know my heart; test me and know my anxious thoughts. See if there is any offensive way in me, and lead me in the way everlasting" (Psalm 139:22-23, ESV).
To feel more comfortable with stillness and silence, be willing to ask yourself the honest questions: Am I a person who feels I must do certain things for my sense of affirmation or worth? Am I refusing to slow down because I'm afraid of the thoughts I'll have when I get still? Why must I have background noise at all times? What can I do to become more comfortable in the silence when it's just me and God? Pray about your reluctance to get quiet and seek the help of a spiritual mentor or a close friend who can keep you accountable when it comes to getting rest and spending quiet time with God.
4. People-pleasing won't allow us to rest.
Some people, because of their upbringing or personality, seek to please others, so they're constantly trying to do more. Maybe you were told as a child that you'd never amount to anything, so you have become driven to prove that prediction wrong. Or, maybe you have always felt in competition with a sibling, or you longed for a parent's – or someone else's – approval. Rest and stillness puts you in a place to take that unhealed wound to God and have Him give you the affirmation you need because of who you are in Christ, not what you have done – or will do – in your flesh.
Eliminate your people-pleasing habit by learning to say (and be okay with saying) no to demands and requests of your time that cut into or threaten your planned times of rest and silence. You cannot please all the people all the time. And it's best to choose whom you will disappoint each day based upon their priority in your life. (Priority people are best defined by those who will mourn the most at your funeral.) Also, choose to define yourself not by how much you produce at work, or your level of success, or who is pleased with you, but by who you are in Christ and how He sees and accepts you. If you need a refresher course in your identity in Christ, read Ephesians 1 daily until it sinks in.
Okay, can you do it? Can you shut out the noise by turning off your TV or the radio in your car or the loop of music on your device and rediscover the quiet of stillness with God? Can you take a break from social media and the constant pressure to perform and impress and just delight in who you are in Christ Jesus? How about taking a walk with God and letting Him speak to you in the silence and teach you what it means to really be still and know that He is God (Psalm 46:10).
For more on slowing down and resting in Jesus, see my books, When Women Long for Rest, and When You're Running on Empty.