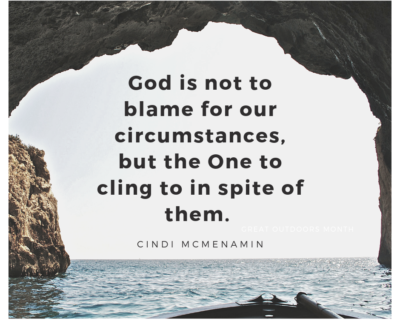 Do you feel like God is ignoring you because others around you are enjoying God's blessing and it looks like you're being left out in the cold?
It's easy to jump to conclusions or develop a misunderstanding about God when He doesn't appear to be answering our prayers. God's silence, or even a very clear no to our prayers, can be discouraging and leave us in a place where we are vulnerable to attacks on our faith and questions about whether God really loves us and cares about us.
Because the enemy's shouts of accusation can overpower the still small voice of your loving Heavenly Father, it's important to have a plan of what to do – and what not to do – when God doesn't give you what you requested.
Whether you were asking for something specific or just feel that God, in general, isn't answering your prayers, here are three things to do to survive the disappointment and remain strong in your faith when God doesn't answer your prayers:
Reacquaint Yourself with God's Truth.
When you're feeling discouraged or abandoned by God, due to unanswered prayer, that's often when Satan swoops in to launch his attack. He does that by giving you thoughts that aren't even your own. Satan will taunt you with lies like, "God stopped listening to you long ago." He will try to heap shame on you with accusations like, "Do you really think God will give you anything you ask for after what you've done?"
The only way to counter the enemy's lies is to familiarize yourself with God's truth, found in His Word. Look up every reference on love in your Bible's concordance (or on www.BibleGateway.com). Study the character of God and note His mercy and compassion (Lamentations 3:22-23). Read up on how He is "righteous in all His ways,
and kind in all His works" and how He is near to all who call on Him (Psalm 145:17-18). When you know He is good, forgiving, and knows how to give good gifts to His children (Matthew 7:11), it will help you discern truth from falsehood and keep you from being easy prey to Satan's attacks during this difficult time.
2. Revisit the Psalms.
Many of the songs in Scripture were written by people who were facing discouragement, disappointment, disillusionment, and unanswered prayer. Yet the Bible's songwriters show a pattern of positive progression in their songs as they refuse to believe God has forgotten them. Go to Psalm 13 and relate to David in verse 1 when he's on his face in pity crying, "How long, O Lord? Will you forget me forever? How long will you hide your face from me?" (EST). Join him when he gets up on his knees in prayer: "Consider and answer me, O Lord my God; light up my eyes…" (verse 3). Then rise to your feet in praise with him in verses 5-6 when he proclaims: "But I have trusted in your steadfast love; my heart shall rejoice in your salvation. I will sing to the Lord, because he has dealt bountifully with me."
David and many of the other songwriters were facing much of the same kind of situations you face today when you're discouraged and feel God is not answering your prayers according to how you'd like. But the one powerful link between their self-pity and their songs of praise is the power of prayer. If you're on the floor, devastated that God is saying "no" to something, get on your knees and pour out your heart to Him, and recall Who He is and what He's done. That will give you the ability to get up on your feet and praise Him, even in the midst of unanswered prayer. If the Psalmists could do it so can you. Sometimes it can help just knowing you aren't the only one who feels the way you do. Revisit the Psalms and let them pour hope and joy back into your heart, even if God doesn't give you that for which you've prayed.
3. Remember to be Thankful.
First Thessalonians 5:18 commands us: "in everything give thanks; for this is the will of God for you in Christ Jesus" (NASB).  To be thanking in all things – even in our disappointment and unanswered prayer – is a tangible way of remaining in the will of God. And God's nature is to bless as we remain in His will. Remaining thankful in all things is a sign of trust. It's a sign of surrender. And it is evidence of obedience.  
Which of these three things will you do in light of your disappointment right now? I'd love to hear it in the comment section below so I can be praying for you.
(For more on trusting God in the silence, see my books, When God Sees Your Tears and God's Whispers to a Woman's Heart.)