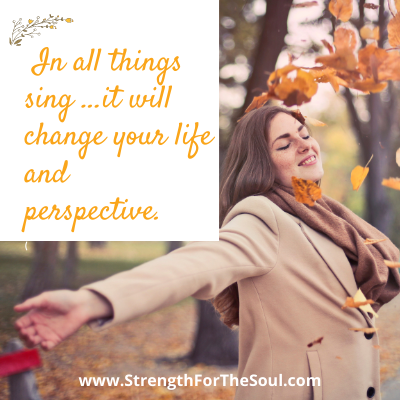 Don't you wish you had an attitude of gratitude every day, and not just at Thanksgiving?
I know I do. But sometimes it feels so good to just vent about what isn't going right.
Scripture clearly tells us to "Do everything without grumbling or arguing" (Philippians 2:14). And Jesus said, "everyone will know that you are my disciples, if you love one another" (John 13:35). I can't help but think others will know we know Jesus by our attitude of gratitude, rather than being people of endless complaints.
When the urge to grumble rises up in you, when the final blow makes you want to explode, or when you're simply in the dumps and tempted to whine, here are three things to do instead of complain:
Count Your Blessings.
It sounds trite, but it works. First Thessalonians 5:18 says " in everything give thanks; for this is the will of God for you in Christ Jesus." I like to paraphrase that verse by saying "In all things sing." When you can look at a situation and immediately list what you can be thankful for, or just start thanking God for whatever is happening, it shifts your perspective and makes you a person of praise. That pleases God and makes you a more enjoyable person to be around.
I realize it's not easy to find something to be thankful for in certain situations. That's why God's Word commands us to be thankful in all circumstances, not just the pleasant ones. It is a sacrifice of praise – an act of obedience that doesn't come naturally – and it changes us in the process. So, when your plans get thwarted or you face another disappointment, instead of complaining, practice an immediate thankful response by saying "God, thank You for Your wisdom and goodness in this and for the way You might be protecting me from something I can't see right now."
2. Correct Your Thinking.
When you're in a grumbling mode, follow the Psalmist's example and tell yourself what to think and do. The writer of Psalm 42 was feeling down in the dumps and didn't appear to know why when he asked himself, "Why are you in despair, O my soul? And why have you become so disturbed within me?" (verse 5). (Today, we might say "Self, what is your problem? Why are you so negative about everything?") Then the Psalmist nipped his attitude in the bud by telling himself what to do: "Hope in God, for I shall again praise Him for the help of His presence."
If you don't have a soul-sharpening friend to call you out on your ungrateful spirit, hold your own heart and attitude accountable by literally telling yourself aloud what to do, as the Psalm-writer did. That is one practical way to practice Paul's advice in 2 Corinthians 10:5 to "take every thought captive to obey Christ." Tell yourself some commands from Scripture or come up with a quip that will roll easily off your tongue like, "Be grateful, not a grumbler."
3. Confide in God.
Of course, God already knows your situation, but by verbally venting with Him you're going to the Only One who is really in control and you're less likely to blame Him or others for your circumstances.
In his classic, My Utmost for His Highest, Oswald Chambers wrote: "If you are not living in touch with God, it is easy to blame Him or pass judgment on Him. You must go through the trial [the very thing that causes you to complain] before you have any right to pronounce a verdict, because by going through the trial you learn to know God better. God is working in us to reach His highest goals until His purpose and our purpose become one."
Which of these will you focus on through the rest of this year so you can keep an attitude of Thanksgiving? I'd love to hear it in the comment section below.