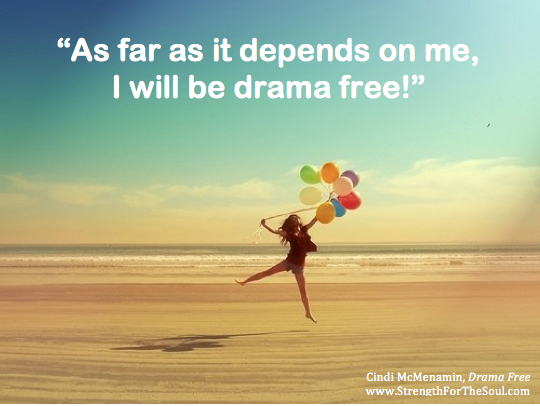 Would you like to be done with the drama? Me too.
Admit it. You've said (or at least thought) I'm done with the drama …
…when your mother calls with complaints that you can't help her with. Sorry!
…when your teenager is having a meltdown for no apparent reason. Whaattt?
…when your co-worker blames you for an incident that was clearly not your fault. Again?!
…when you get a call from a family member or friend who isn't attending the gathering because she is planning to be there. Whatever.
…when you discover the talk in the break room, Bible study, or neighborhood  has been about you. Over it!
Or maybe – just maybe – someone else has thought I'm done with the drama when thinking of you.
I'd like to think I'm never the cause of drama. But in reality, you and I can be catalysts for drama without even realizing it. Yes, you have been the cause of drama if you've ever…
… told your friend about another break-up worthy situation with your boyfriend, yet you can't bear to part with him.
… verbally vented at the customer service rep for how you were treated in the store.
… given another mom a piece of your mind after hearing how her child treated yours.
… said anything about anyone that you wouldn't have said if they were present.
… refused to attend or be involved with something because of another person you didn't want to be around.
… refused to forgive someone because of something they've done to you.
… stormed out of a room or meeting (or lost it, emotionally, and then left the room).
Yep, if you've ever done any of the above (like I have), then you know drama, too. And I'm sure you hate it as much as I do.
But you don't have to be drama…or continue to have drama in your life. After all, how we respond to situations make all the difference — or all the drama — in the world.
Here are 10 statements to verbally diffuse drama in the moment:
Thank you for your concern.
It's best if I don't speak about that.
I don't understand why God is allowing this, but I trust Him.
This isn't about me.
This isn't about either of us.
This isn't the appropriate time or place.
I don't feel comfortable discussing that without him/her here.
Thank you for your honesty in expressing how you feel. Now I need time to process this before I respond.
Let's look at the facts, not at how we feel.
I know it's not ideal, but I'm thankful that ________________________.
Which of these statements will most help you? Let me know in the comment section below and see my new book, Drama Free, for more practical ways to dial down the drama in your life.