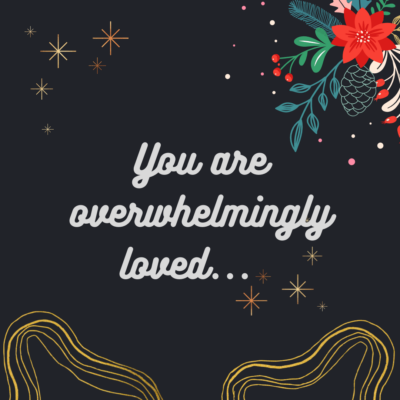 On Sunday, we sang a song at church about the "overwhelming, never-ending, reckless love of God."
Have you thought about that lately? Have you thought about that in light of why we celebrate Christmas?
God's overwhelming love for us caused Him to send His only Son to this earth as a helpless, vulnerable baby so we would know that He could relate to all we experience from birth through adulthood. So we would have the confidence that He is a credible High Priest who can understand our weaknesses when we come to Him with our sufferings, temptations, desires, and disappointments (Hebrews 4:15-16). He showed us, through His life on earth that it IS possible to live fully surrendered to God in spite of what life throws us. In Jesus we have not only an example, but a Conqueror who did what we never could — lived a sinless life and paid the ransom for our sins. That is overwhelming love.
God's never-ending love kept Jesus on the course and the cross in spite of being mocked, rejected, tortured, and executed for OUR sins, not His. That never-ending love continues to pursue us, heal us, and draw us toward Him in relationship (Jeremiah 31:3).
God's reckless love risked it all when He sent His Son to this earth knowing most of the world would reject Him. Yet He leaves the 99 to come after the one lost sheep — and that lost sheep at one time was you and me. Reckless love continues to love regardless of the risk, ridicule, rejection, or suffering that is involved. Can you and I love Him that way? Can we love others that way?
Oh how wonderful, this overwhelming, never-ending, reckless love of God that risked everything to love us. That is what Christmas is. God coming for us, pursuing us, risking everything for us. Joy to the world, the Lord has come!
Will you embrace His overwhelming love this Christmas? Will you celebrate His never-ending love no matter who you are around? Will you return His reckless love, and give it to others as well? That is what Christmas is all about: Embracing, celebrating and reciprocating the Love that came for us.
What is one thing about His love that YOU will be celebrating this Christmas? I'd love to hear it in the comment section below so I can celebrate alongside you. Merry Christmas, my friend. You are much loved.