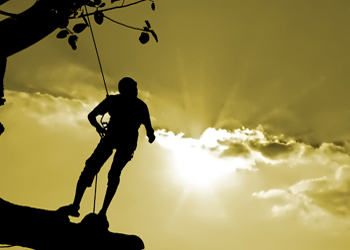 Do you ever feel threatened by your husband's dreams?
As I was writing my book, When a Woman Inspires Her Husband, I realized I had unintentionally become a dream destroyer to my husband by not embracing his dreams as expressions of his heart.
Proverbs 20:5 says "A plan in the heart of a man is like deep water, but a man of understanding draws it out." And I believe a woman of understanding can not only draw out the purposes and dreams in the heart of her man, but she can encourage him to keep dreaming, and eventually pursue those dreams, as well. On the other hand, I have witnessed many wives, perhaps unknowingly, stifle the dreaming heart of their husbands.
Facing your fears
A woman has the ability to snuff out dreams in the heart of her husband through her fear of what she believes is unsafe or too expensive, an intolerance for what she believes is foolish, or a lack of understanding of the importance for him to live from his male heart. I'm ashamed to admit that I've been a dream destroyer of Hugh's, at times, although unintentionally. For me, it's usually centered around concerns for my husband's safety (like when he wants to scale the top of another mountain) or concerns for our family budget (like when he talks about traveling to another country). Maybe you've dampened the dreams of your husband, too, by your response to the verbalization of his dreams, or by not encouraging him to dream in the first place. But it's not too late for you and me to help resurrect those dreams within their hearts and be a helper to our husbands in seeing their dreams through.
"If a husband wants to do something adventurous but doesn't include his wife, it doesn't mean she's any less important," Hugh told me. "It just means he wants an adventure."
Whether your husband's dreams sound outrageous, impractical, too expensive or just too risky, they are nonetheless, his dreams. And a man needs those dreams to keep his life in focus. We've seen far too many men give up their dreams altogether and settle for what life brings them.
Recognizing their need to dream
"Too many men are doing something they have to do to make money and not what they really want to do when it comes to living from their hearts," my husband told me. As a pastor, he sees many men suffer through burnout or depression because their jobs are draining them of energy and passion. What they really need is something to revive their heart and remind them of why they're alive, he said. That sometimes comes in the form of a dream.
"If I'm not careful," one man told me, "I'll spend my entire life working and never really do anything that I've dreamed of. My life will consist of one long resume of work. That's why it's important for a man to keep dreaming, and for his wife to come alongside him and give him permission to reach for something more in life, even if that more is something as simple as a long vacation, a car he's always admired, or a feat he's always wanted to accomplish."
Sometimes those dreams are in the form of adventures that your husband feels he's never experienced and needs to. Deep within his heart is a drive for adventure, a desire to test his limits, and a need to engage the deep longings of his masculine soul. Men are all about the adventure…and they sometimes need their wives to affirm those dreams and help make them happen.
Sometimes it's a phase
Granted some dreams on the heart of your husband may just be for a season. We might say it's a "phase" he is going through. Or maybe some dreams represent challenges that, once accomplished, give them the sense of having reached that dream so they can move on to something else.
After getting married, Bob dreamed of getting his scuba diving license. His wife, Mary, took a diving class with him. But she ended up hating it.
"The equipment was heavy and uncomfortable and being out in the open sea was much different than the training pool where she took her class," Bob said. "She really didn't like it. It was unfortunate and it would've been kind of cool to have a built-in dive partner, but she didn't discourage me from continuing to dive."
Rather, Mary encouraged Bob to dive with some buddies.
"I think she was happy that she didn't have to go," Bob says, laughing about it now. Mary was happy to let her husband live that dream and adventure without her, which he did for a few years. He went on a few more dives, and taught diving classes for awhile. But when they started having children, he gave up diving and hasn't gone back.
"I never really felt like I was missing anything, having not continued it all those years the kids were growing up," Bob said. For him, it was important to pursue the dream while it was brewing in his heart.
Dreaming stretches his faith
I once heard a man, in passing, say that a dream is just that. It's something that is out of reach. And therefore there's no possibility of, nor reason for, pursuing it. He called himself a realist. But I would call him a cynic. And I believe the cynicism is indirectly aimed at God. I'll tell you why.
God is a big God who makes big dream-like claims in His Word:
Now, God's Word clarifies some of these "ask and it's yours" statements. In James 4:3, we are told: "When you ask, you do not receive, because you ask with wrong motives, that you may spend what you get on your pleasures." (There's the reason God doesn't grant you or your husband's dream to win the Lottery!) But when our dreams are similar to God's dreams for us – and do not tear down our bodies, our minds, our hearts, our homes, our marriages, or our relationships – He is pleased to grant them.
Psalm 37:4 instructs: "Delight yourself in the Lord; and he will give you the desires of your heart." The next verse tells us to "commit" our way to the Lord and trust in Him. Those are the conditions He puts around our requests and our dreams. In other words, as we put God first, He delights to grant our hearts' desires.
Do you realize that encouraging your husband to dream is not setting him up for failure but it is stretching his faith and enlarging his view of God? And whether he's a believer or not, he needs a big view of God…even if just by seeing your faith that God is the redeemer and restorer and the giver of every perfect gift under heaven.