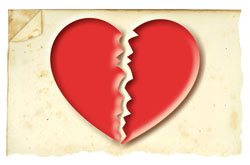 Having faced rejection from an abusive father, abandonment from an abusive husband, and then betrayal by a boyfriend she thought was the "real deal," Becky asked "What's wrong with me?"
But Becky, as many of us do, was asking the wrong question. The question is often not "What is wrong with me?" but "What is wrong with this representation of 'love'?"
At the root of our hurts, as women, is what I call "distorted love." We thought it was real. But then we were burned. We trusted it as love, but discovered it was manipulation. Sadly it can take several years, multiple relationships, and countless scars  to finally realize that true and perfect love exists only in the One who is truly perfect: Jesus Christ.  In my newest book, When a Woman  Overcomes Life's Hurts, I point out that we can achieve healing and wholeness when we recognize the difference between real and distorted love. Distorted love says "what's in it for me?" And real love, as demonstrated by God toward us, says "what can I give so that you can be free?"
In John 15:13, Jesus said: "Greater love has no one than this, that he lay down his life for his friends." And then Jesus did just that for us, whom He called His friends.
God also gives us a beautiful description of real love in First Corinthians 13:4-8 where we are told  that love is patient, kind, does not envy, does not boast, is not proud, is not rude, is not self-seeking, is not easily angered, keeps no record of wrongs and does not delight in evil. Furthermore, we are told that love "always protects, always trusts, always hopes, always perseveres" and — get this — "love never fails." So if someone promised you love but didn't persevere, if they promised you love but changed their mind, if they told you they loved you but now they apparently don't, LOVE did not fail, that person did.
Were you hurt by someone who distorted the meaning of love? Your heart can begin to heal when you realize the difference between distorted, manipulative, self-seeking love, and love that is sacrificial, unconditional and ever-present.
Don't settle for less any longer. Set your standard higher by placing any claim of love  next to the sacrificial love of Jesus. Lay a description of that man or parent or friend against the Bible's description of love in First Corinthians 13:4-8. Then ask God to show you His idea of love and protect you from anything that falls short of it.
I would love to hear from you. How have YOU protected yourself against distorted love?