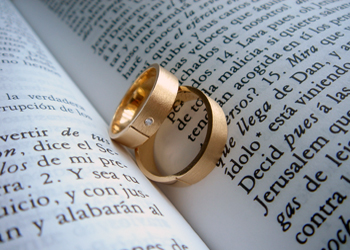 Jennifer's sweet spirit, contagious smile and spiritual strength defy the fact that for more than 35 years she has been married to a man who wants "nothing to do with religion."
When Jennifer married, she didn't realize the seriousness of committing herself in marriage to a man who didn't share her faith. Shortly after her wedding, however, she understood the wisdom of 2 Corinthians 6:14 which warns believers not to be "bound together with unbelievers" because "there is no fellowship between light and darkness."
"Immediately I noticed the more I loved the Lord and His Word and wanted to live for Christ, the further my husband would go in the opposite direction."
Early on in her marriage, Jennifer realized her struggle was not with her husband, but "against the rulers, against the authorities, against the powers of this dark world, and against the spiritual forces of evil in the heavenly realms" (Ephesians 6:12). So Jennifer developed a strategy.
"Daily, hourly, I needed to be strong in the Lord and in his mighty power, putting on the full armor of God so that I might be able to stand firm against the schemes of the devil" (Ephesians 6:10-11, 13-18).
Like many women who are married to unbelievers or to men who don't walk with their wife spiritually, Jennifer has been tempted to leave the marriage – many times. "But each time I would think seriously about divorce, God would bring someone or something into my life – a special message, a sermon, a book, a comment from my mother – that would focus my heart back upon God, trusting that He would bless this mess."
When she was making plans again to leave the marriage two years later, a friend handed her a book that directed her attention to the error of her ways instead of focusing on her husband and his faults and how he needed to change. That began a new stage in her life, in which she quit looking to change her husband and started focusing on allowing God to change her.
"It was during this time of studying, reading, and trusting God's Word that God removed the "D-word" from my heart, mind and soul and I submitted myself and my marriage to God forever," Jennifer said. "I began to see that God brought me into my husband's life to pray for him and for his eventual salvation through a silent ministry – right here in my home."
Jennifer's silent ministry is based on 1 Peter 3:1-2: "Wives in the same way be submissive to your husbands so that, if any of them do not believe in the word, they may be won over without words by the behavior of their wives, when they see the purity and reverence of your lives."
Because Jennifer is a woman who has grown incredibly stronger through her spiritual walk alone, I asked her to share the secrets to her strength, the basis for her hope, and how she has found it possible to live with a man (who doesn't honor God) in a way that will honor God.
Place Your Husband in God's Hands – Jennifer said she learned long ago to let go of her husband, move out of God's way, and allow the Holy Spirit to work in her husband's heart. For many women this isn't easy, but Jennifer found it a relief. "It has been a joy to let go and much more relaxing to trust God for His victory in my husband's life. My husband's salvation is between him and God, not between my husband and me."
Praise Your Husband – God's Word instructs us, in Philippians 4:8, to think about whatever is true, noble, right, pure, lovely and admirable. "That reminds me to look for opportunities to praise my husband," Jennifer says, "to thank him for those times he says or does positive things. I look for ways to encourage, support, love and respect him. Jesus has taught me how to look for the good in my husband."
Prioritize Your Husband – By placing your husband's needs first – above your own and anyone else's – you are honoring him and giving him a chance to see God through you. "At first this was difficult," Jennifer said, "however, when I saw the pleasing behavior that came from my husband, it was a confirmation that this is what Jesus would do. Before going out at night to a Bible study or away on a weekend retreat, I always make sure that meals are prepared, the house is in order, and the children's needs are met." There have been times when Jennifer has had to pass up an opportunity or a Bible study because of the needs of her husband or the obligations at home. She's learned to do that without feelings of guilt or resentment, believing that her first obligation as a servant of God is to be obedient and submissive to her husband.
Pray for Your Husband – Pray not only for your husband's salvation, but for every area of his life, as well. As you pray for him, God will soften your heart toward him. And as you show him love, he is able to see God's love, through you, as well.
Pray with Other Women – "Not being able to share my prayer life with my husband, I began to look for other women who believe in the power of prayer," Jennifer said. Praying with other Christian women has blessed her life and deepened her walk with the Lord. Every woman – regardless of her situation – needs women around her for support, prayer and encouragement. There are many women who share your burden for an unbelieving husband, too. Find them – in your church, in your small group Bible studies, at your children's school, at your workplace – and pray with them. It's a comfort not to have to carry the burden alone.
Finally, Jennifer says, remember that God is able to reach anyone's heart…even the heart of her husband – and yours.