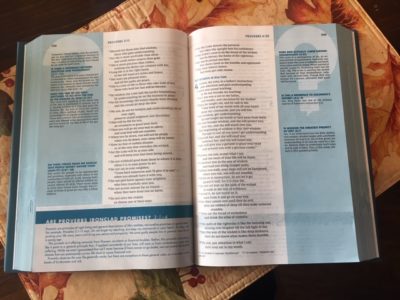 Do you find that you have more questions than answers when you read the Bible? Do you wish there was someone there guiding you, instructing you, clarifying your questions as you read?
It could be you need a new approach, or some new tools in knowing how to study the Bible and find the answers you need.
As part of the Bible Gateway Blogger Grid, I was mailed a free copy of the new NIV Quest Study Bible in exchange for an honest review on my blog. 
Now, I have several Study Bibles on my shelf (such as The Woman's Study Bible, The Reformation Study Bible, The International Inductive Study Bible, The Life Application Study Bible) and each has a different focus. But, I was encouraged to see that this particular Study Bible is targeted toward the individual who comes to God's Word with questions – especially questions that are particularly relevant today – and it provides a simple way to find the answers. In fact, this Study Bible directly addresses many of the questions that you, my readers, write and ask me.
Throughout the pages are sections with answers to the "Top 100 Most-Asked Questions" including:
How do we know the Bible is true? (Hebrews 4:12)
Is "One Man, One Woman" the only kind of union God approves of? (Genesis 2:24)
What are angels, and how do they interact with the world today? (Genesis 28:12)
Are people just pawns in God's chess game? (Job 1:13-19)
How can I tell if I have too much stuff? (Matthew 6:19-20)
What about those who have never heard about Jesus? (Acts 4:12)
How can we gain victory over secret sins? (Colossians 3:8-9)
What is spiritual warfare, and how does it affect me? (Ephesians 6:12)
How should Christians teach their children about God? (2 Timothy 1:5)
Do Christians really need to attend church? (Hebrews 10:24-25)
In addition to answering the "Top 100 Most-Asked Questions," this Bible also includes on the bottom of nearly every page answers to questions like: Are dreams messages from God? (Genesis 28:12-15), If God chooses us, do we really have a choice? (Ephesians 1:4-5), and Can someone who is saved fall away? (2 Peter 2:20-22). The study notes are responsible in how they answer, pointing out that differing views and conclusions exist on certain topics and directing you to further verses to come to your own conclusions based on the Word of God, not an individual's input. 
Along the side margins on every page are answers to questions that naturally arise as you read certain verses. Again, helpful cross references are often given, so you can look at the topic in context and study it further. 
This study Bible also includes a thorough Index to Subjects, a Dictionary-Concordance, an Index to Color Maps and Perspectives from the Bible – a "What to read" guide" when the future seems hopeless, when you are seeking God's direction, when you need comfort, when others disagree with you, and so on.
I recommend this Bible for you if you find yourself going to God's Word with questions. Or, if you are ministering to someone else who often has a question you have difficulty in answering. The cross-references will actually teach you to start studying the Bible, in context, for yourself. 
What question about the Bible is burning on your heart? Let me know in the comment section below and I'll do my best to let you know how this Study Bible addresses it.