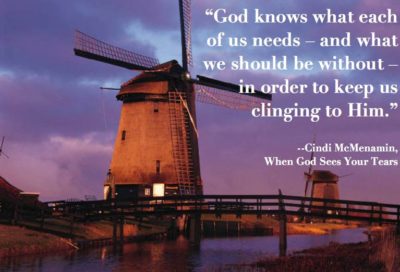 Do you know what it's like to ask God for something and to keep receiving a "no"?
I do. Whether I was trying to get a book published, trying to have a second child, or trying to pry open a door of opportunity, every time I received a "no" it was discouraging. But looking back now, that "no" was really God saying "wait — I have something better for you, instead."
Sometimes God's "no" is because He's protecting us from what we don't yet see. Other times it's because He is waiting to give us something far better than we requested.
Hannah, a woman we read about in the Old Testament, knew the discouragement of God's "no." She longed to have a baby. Yet we find twice in the first few lines of her story that the reason for Hannah's infertility was "because the Lord had closed her womb" (1 Samuel 1:5-6).
Ouch! That verse specifically tells us that the Lord was the One withholding from Hannah the one thing she wanted most in life.
We have a hard time wrapping our minds around the possibility that God would allow — or even arrange — certain difficulties to come our way. Yet that is one of the primary ways He awakens our need for Him, grows our dependence on Him, shapes our character, and draws us closer to Himself.
In Hannah's case, she became so desperate for God, that she poured out her heart to Him in prayer and offered to give back to God this son whom she longed for. It was then, after Hannah's surrender, that God gave her a baby. But not just any baby. Hannah had a son named Samuel who became one of Israel's greatest prophets and priests, and who turned the nation's heart back toward God. God waited for His timing so He could do so much more with Hannah's request.
Scripture tells us that "Every good and perfect gift is from above…" (James 1:17). So if you're praying for a "gift" and it's not arriving, God is the One who, for some reason, is deciding to withhold that gift. And, I have learned through the years that some of God's "gifts" to us are the very things He decides to withhold.
God's "gifts" sometimes take the form of difficulties, losses, and outright pain. We don't originally see them as gifts, but they are gifts, nonetheless, that are given to us to grow us to a new level in our spiritual life or to prepare us for something better that God has in store for us, or perhaps even to help us see something extraordinary about God that we couldn't see before.
I remember not wanting to accept one of the "gifts" God was giving me. I struggled with not being able to have a second child (what doctors now refer to as secondary infertility). It was a struggle for me because I remember "claiming" Psalm 84:11 as my promise that I would have another child: "No good thing will he withhold from those who walk uprightly (NASB)."
Apparently what God considered a "good thing" in my life was not birthing a second child, but birthing a writing and speaking ministry, instead.
Through the years I've seen that God's idea of a good thing (and ultimately what's best for me in my faith walk with Him) may be completely different than mine. But I've also learned to not question the wisdom and actions of an all-knowing, all-loving God who is much more capable of managing my life than I am.
God has His reason for why He is withholding something from your life. And it's not because He wants to punish you or make your life miserable. It's not because He doesn't love you or doesn't see your tears. It's very possible that He wants to bless you from another angle. And it's very possible He wants you to realize that the one thing you need to be desperate for is Himself.
What have you longed for that God appears to be withholding? Let me know in the comments section below. I'd love to pray for your trust in that area.