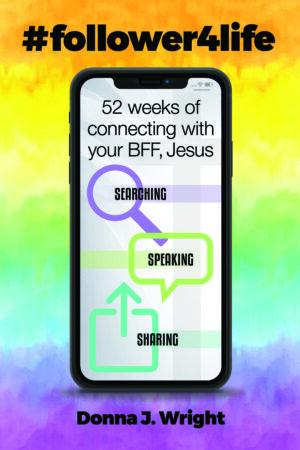 Do you find you are overly focused on spending money at this time of year? 
My writing client, Donna Wright, just released a book to help teens spend more time with Jesus — and make Him their "Best Friend Forever" in 2021. Although her book is written to teens, her Christmas-angled devotional in the book applies to you and me, as well.
Here are some timely and encouraging words from Donna's book #follower4life. (And keep reading to see how you can get her book to help your teenage kids or grandkids spend more time with Jesus in the coming year.) 
Here's Donna…
Many times, our Christmas season begins by spending time preparing lists and budgets instead of spending time preparing our hearts to celebrate the birth of our Savior.
From the story of Mary, mother of Jesus, you can learn how to spend time in order to prepare your heart for the Savior.
When Mary was a young girl, an angel of the Lord visited her and immediately calmed her and assured she was highly favored by the Lord. For Mary to have been favored meant, not only did the Lord know Mary, but Mary knew the Lord. The Lord knew of Mary's faith, devotion, and love for her God. And Mary knew of God's goodness, power, and love.
To prepare your heart for Christmas, spend time with the Lord in His Word and in prayer. God knows you as well as He knew Mary. The question is Do you know God as well as Mary did? The way to know God is to spendtime with Him.
Christmas is often when you will spend time with family and friends. Mary did the same. While pregnant with the baby Jesus, Mary traveled to visit her relative, Elizabeth, who was also going to have a baby – John the Baptist. The two expectant mothers spent three months together as they prepared for the births of John and Jesus.
You may not spend three months with your relatives or friends, but whatever time you spend, instead of (or in addition to) buying a present… be present. Look up from your screen and let your face be seen. Spend time talking about the past, present, and future. There's no better way to celebrate the birth of Jesus than when you spend time loving others as He commanded.
Christmas Day is celebrated by giving to others, whereas Thanksgiving Day is more associated with gratefulness and praises to God for His goodness to us.
As Mary waited for Jesus to arrive, she spent time acknowledging God, obeying God, and giving Him praise. Giving God thanks should not be reserved for one day a year. He deserves our obedience and praises every day. As you wait for Christmas morning, spend time remembering who God is and what God has done. Spend time praising Him for sending Jesus.
Mary knew to spend time with God, spend time with others, and spend time in prayer and praises to be prepared for the birth of Jesus. How about you? Will you spend, spend, spend your time preparing for His birthday?"
#TakeAway4Today
Spending time in the scriptures, spending time loving others, and spending time praising God for all that He has done, prepares your heart for celebrating the birth of Jesus.
Text, Tweet, or Post for the Day
 Christmas is about the birth of Jesus. Spend time reading your Bible. Spend time loving others. Spend time praising God for Jesus Christ.
Say it Out Loud
Happy birthday, Jesus. You are the greatest gift to all of mankind. Thank You for Your love.
DonnaJ. Wright is a southern gal who is passionate about God's Word. Her devotionals written for her grandchildren have been shared among family, friends, and more than 500 women in an online Bible study. She and her husband, Ken, have five children, 15 grandchildren, and four great-grandchildren and they make their home in Texas. For 52 weeks of prayers to text to and connect with your loved ones, go to Donna's website at:  https://www.wrightinspirational.com/. You can also buy her book, #follower4life, directly at Amazon.