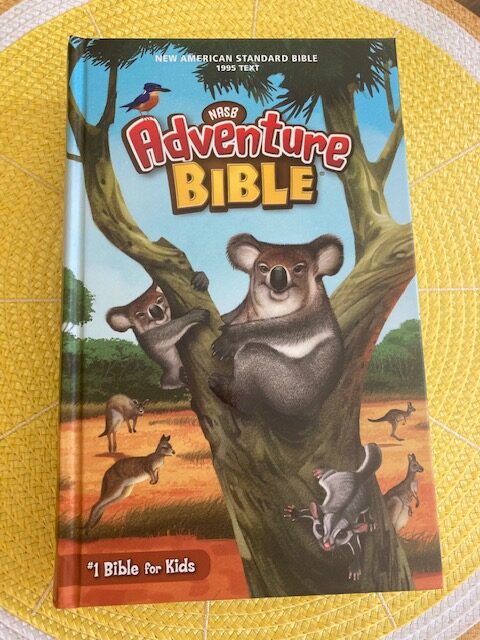 Do you have children or grandchildren who aren't excited about Gods Word?
That's normal, you might think. The Bible is difficult for even adults to understand and enjoy.
Yet, God's Word can be exciting and wonderful to read at any age. And whether you're a child or someone who is fairly new to the Bible, the NASB Adventure Bible will make the Scriptures come alive, giving you beautiful color sections, facts, and application helps that you can learn from. 
As a member of the Bible Gateway Blogger Grid, I was given a review copy of the NASB Adventure Bible– the #1 Bible for Kids – in exchange for writing an honest review of it. I not only wish this Bible was around when I was discovering God's Word at the age of 7 (trying to figure out where and what to read), but I'm making sure my nephews (ages 4 and 9) grow up on this edition. It's just that fun, exciting, and helps kids learn that the Bible really is God's Word and full of facts and helps for their everyday life. 
This colorful Bible highlights verses in a treasure chest (called "Words to Treasure"), provides application points in a section called "Live It!" and offers interesting facts that kids will love in the "Did You Know?" sections throughout. It also has full-color glossy charts, lists, and illustrations to reinforce that anyone who reads it is on an adventure, mining truths like gold, and searching out God's wisdom like buried treasure. 
Full color glossy pages highlight topics including "How to Know if You're a Christian," "Ten Commandments for Kids," "Famous Children of the Bible," "How to Pray," and "The Life of Jesus Christ," among others. 
I especially like how this Bible defines words like reconciliation, explains difficult concepts like Jesus asking Peter three times if he loved Him, and provides a topical index and a dictionary concordance so anyone who reads it can never struggle with feelings of confusion or excuses like "I just don't understand it" or "it's not for me."
You can order a copy of this Bible to gift to your children, nieces or nephews,  grandchildren, or even a new believer, here at Christianbook.com.
To find out more about this Bible's interactive games and activities online to help kids explore God's Word, watch this video at the FaithGateway Store: (https://store.faithgateway.com/collections/adventure-bible).
Apart from falling in love with God's Word yourself, what have you found helps children develop a desire for God's Word? I'm sure my readers would love to know your thoughts in the comment section below.