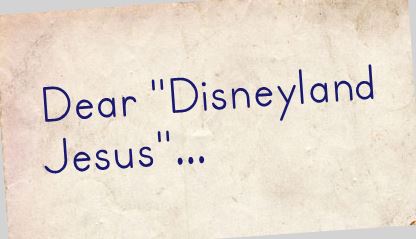 My 3-year-old nephew, Escher, was praying for our breakfast just as we were about to go into Disneyland.
"Dear Disneyland Jesus,

Thank you for this food and for our day and for keeping us safe and healthy.

Amen."
Escher had been known to address God as "Dinosaur Jesus" after spending a day at the "Walking with Dinosaurs" exhibit and being enthralled with his new discovery. And on days when he learned his Cousin Dana would be taking him into Disneyland again, his prayers were directed once again to "Disneyland Jesus."
I couldn't help but smile and think that little Escher was simply transferring the excitement of the blessing he was about to experience to the Blesser who was allowing it. I commented to his mom shortly after,
"Escher knows Jesus is Lord of the Dinosaurs and Lord over Disneyland, as well!!"
Call me one to spiritualize everything, but Little Escher's prayer got me thinking. How easy it is for us, like a child, to pray to "Disneyland Jesus" — the giver of all good things. How wonderful, also, to pray to "Dinosaur Jesus" — who allows us the adventure of discovering new things.
But how we, as adults, struggle in the not-so-exciting times, in the downright painful times, to pray "Dear Heartache Jesus" or "Dear Cancer Jesus" or "Dear Death-of-a- Loved One Jesus." And yet, He is Lord over the disappointing days as well as the Disneyland days.
Scripture says:
"Every good and perfect gift is from above, coming down from the Father of the heavenly lights, who does not change like shifting shadows," (James 1:17).
That verse doesn't mean that only the "good and perfect gifts" in our eyes (like Disneyland trips and grand adventures) are from God. But everything He allows into my life (including disappointment and pain) is a good and perfect gift, coming from my Father of insight and understanding who knows what is ultimately best for me.
God, restore to me a simple, childlike faith that honors You as Lord over every good and exciting experience. And refine that faith to honor You and delight in You just as much because You are Lord over every hurtful experience, too.

Thank You for the Disneyland trips, the Dinosaur discoveries, and the disappointments in life, as well. Thank You that just as You hear the prayer of a delighted boy about to make new discoveries, You see the tears of a disappointed heart about to learn to trust You more.
Can you thank your "Dear All-Knowing, All-Loving Jesus" for whatever He brings into your life today? Trust that as you walk into it, He is right there walking into it before you.