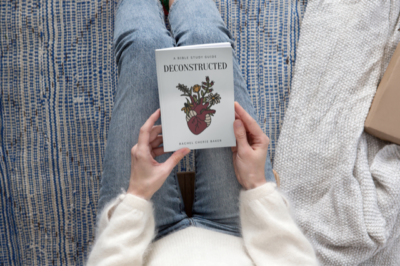 Do you struggle to understand your Bible? Or are you one who simply waits for someone else — like your Pastor or a friend in seminary — to explain to you what it means?
My friend and writing client, Rachel Baker, has a heart for women who want to understand and go deeper in the truths of God's Word. So she just released her first book Deconstructed: A Bible Study Guide that helps you deconstruct or take apart the Word so it can more effectively put you back together. 
Here's Rachel's heart on the matter (and keep reading for how you can win a free copy of her book or order with a discount). 
"Three years of ministry in Salt Lake City introduced me to a whole group of people who had a deep mistrust for the Bible. In their experience the Bible had been used as a tool to manipulate, control, and confuse. As a small-group facilitator and women's ministry leader, I met so many women who had a deep desire to grow in their relationship with Jesus and yet struggled with engaging in the Word of God.
How can you grow in your faith if you have a mistrust for the Bible?
That question applies to most Christ-followers, whether you're brand new to the faith or decades in and finding yourself stagnant. Growing in faith and time in the Word are synonymous; and yet why is it that we often find ourselves doing anything and everything but diving into our Bibles?
Perhaps it's for the exact same reason that we depend on our own human ability to control rather than allowing the Spirit to lead and guide us. How guilty am I of wanting to control outcomes and even the day-in and day-out of my life? How many times I have actually said, "I've done everything I can do, now I'll just pray." Yet, what if I started with prayer and then did whatever needed to be done? What if I started with the Word and followed with action?
I'm convinced there's an intrinsic need for all people to be able to approach their Bibles with confidence and capability. Gaining confidence in reading the Bible is something that often needs to be learned. This learning takes time and patience, but is so worthwhile.
A couple summers ago a friend of mine approached me in a coffee shop and suggested that we create a Bible study that would help build women's confidence in reading their Bibles. Our desire was that they could open their Bibles to any book and begin deconstructing what they were reading. Out of that desire our Bible study on the Book of Esther, called For Such a Time as This was born. After running through the study with our small group the greatest feedback was "I wish there were a study guide that had these materials in it, but that could be used as a companion tool with any book of the Bible and any Bible study. 
Out of that concept the Deconstructed: Bible Study Guide was born. Deconstructed strips away additional commentary and provides a path to growing in confidence and understanding of the Bible. It helps break down what exactly the Bible is, who wrote its 66 books, what type of literature they are, and why it is important to understand them. 
When I embarked on the hefty task of writing the content for Deconstructed I became overwhelmed and uneasy. Who on earth was I to think that I could carry out such a sacred task? My sweet husband, who is a Pastor and just finished his master's degree in Systematic and Philosophical Theology (say that three times fast), tried to help me get started. He gave me one of his theology books, setting it on my desk with a heavy thud. I cried, "I'm not a theologian!" I was completely overwhelmed by the sheer mass of the book he gave me; it was 4-inches thick!
The overwhelming size of that book reminded me why I was writing Deconstructed and for whom. It's not a guide for the theologian or seminary grad; I was writing it for myself and for my friends, who just like me can struggle with knowing and understanding the Bible. We need something simple and easy to digest over a cup of coffee. Deconstructed is for you if you've found yourself stuck or hung up on something in Scripture. It is an incredibly simple tool that even a child could use. (My 9-year-old has read a lot of it and approves!) 
Everything about Deconstructed is simple, from the terminology to the tools. My hope is that you will read this little guide and walk away with a newfound confidence to discover the Word of God on your own. The Bible is not supposed to be some mystical book only for the hands of priests and pastors; this sacred book is for all of us.  With that in mind, you and I all should have the ability to understand what is in those sacred pages. Through understanding comes confidence, through confidence comes trust, and through trust, you and I can develop a deeper and richer faith in God."
Why would you like a copy of Deconstructed? Let me and Rachel know in the comment below (along with the U.S. state where you live) and we will choose two winners to each receive a free copy in the mail. (U.S. mailing residents only please.) You can also use the discount code CindiM to save $2 on two copies of Deconstructed at Rachel's website. To order five or more copies for your small group or as gifts, email Rachel at Rachelcheriebaker@gmail.com for a special bulk discount.)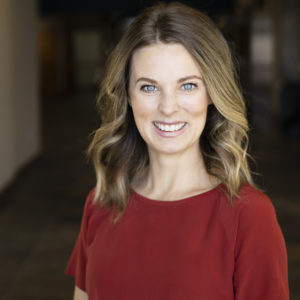 Rachel Cherie Baker is a director of women's ministries, pastor's wife, retreat speaker, writer and mother whose passion is to inspire those around her to become fully alive in their identity in Christ. Rachel loves sharing from her own life experiences and teaching the Bible. She serves in ministry alongside her husband, Kile, at LifePoint Church in Northern Nevada. Together they have two crazy cool kiddos and three dogs. Rachel is fueled by coffee, tacos, and copious amounts of cheese. You can learn more about her at www.RachelCherieBaker.com.