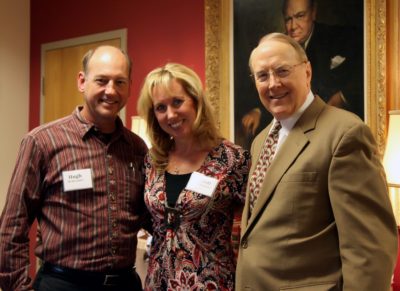 Hugh and I recently spent an afternoon with Dr. James Dobson. He had invited us to his Family Talk offices and radio studio in  Colorado Springs last month to tape a couple segments on the topic of my book, When a Woman Inspires Her Husband.
As we waited in the small lobby of Family Talk to meet the founder and former president of Focus on the Family, I scanned the walls lined with pictures of Dr. Dobson and his wife, Shirley, with former Presidents Bush (both of them), the Rev. Billy Graham, Chuck Colson, and many others. A large commendation from former President Ronald Reagan and a picture of the two of them, looking like good friends, was front and center on the wall. Dr. Dobson had become friends with presidents as he followed God's call  on his life and helped America focus on the family.
Dr. Dobson graciously invited us into his office which resembled more of a cozy mountain cabin. As huge of an influence as this man has had on the institution of the family for the past few decades, he was as humble of a man as we'll ever meet. As he extended his hand to shake mine, I leaned in to give him a hug and he laughed, warmly, and said to my husband, "Is that alright with you, Hugh?"
He had us sit with him awhile and he talked with Hugh about antelope hunting a few days before in which he caught nothing but a cold. He shared the story of how his father, an evangelist, cut short a  successful revival tour to come home and parent his son when he needed him most and how that impacted his life and his direction in ministry. And he shared with us stories, during the interview, about little tiffs he and Shirley got into that really weren't that big of a deal in hindsight. (They, in some ways, sounded like Hugh and me!)
After the interview, he let us take a picture with him, and suggested it be next to his favorite portrait of Winston Churchill in the hallway. (I tried to impress him by quoting Churchill's famous "never, never, never give up" speech, but he corrected me for leaving out the word "ever"!)
Before we left, he opened a cabinet door in the hallway and asked if we'd like to help ourselves to some of his books. It was like entering the Cave of Wonders!!! I looked through the treasure trove and chose a copy of his recently-published book, Bringing Up Girls, and his beautiful gift book, Love for a  Lifetime, as a memento for me and Hugh of our visit together to see him.
As we said our goodbyes and headed out of the studio I couldn't help but think of one word: legacy.
Dr. Dobson had built one. But from his point of view, he was simply following God's call on his life one day at a time, praying for direction, and then making one obedient decision after another.
I got to thinking about what my legacy will be — and the daily obedience and sensitivity to God's voice that is required to be able to live life well.
What will your legacy be? And how will your decision today– to obey or not to obey — affect your (and your children's) tomorrow?
(Our interview with Dr. Dobson will run in two consecutive segments, Nov. 6. and 7. Find the station in your area at www.FamilyTalk.org or listen to the podcast online.