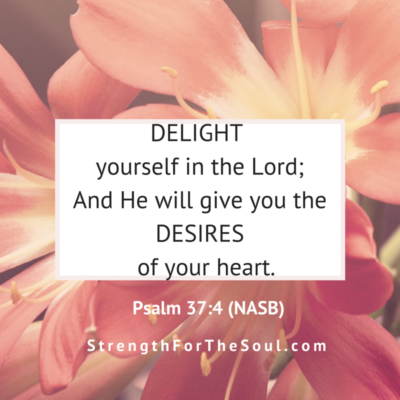 Are you tired of pursuing something only to find it always eludes you?
It might be your approach.
For instance, are you tired of difficult circumstances and you just want joy? Don't pursue joy — pursue the Author of Joy.
Are you lonely and just long for loving arms around you? Don't pursue love. Pursue the Author of Love.
Are you tired of dissension, conflict, a "hectic" life and just want peace? Don't pursue peace. Pursue the Prince of Peace.
Psalm 37:4 says "Delight yourself in the Lord and He will give you the desires of your heart. " I believe this means make Him your sole desire and He will plant in you His desires and delight in granting them. I know from experience — and from watching it in the lives of many other women, too — that when we desire Christ first and foremost, we end up with everything else we wanted, too.
Matthew 6:33 says "seek first His kingdom and His righteousness…" (in  other words, seek HIM ) and all these things — the joy, the love, the peace — will follow.
Seek and desire HIM, not all you want Him to give you. As you find more of Him, you will also find you need less of everything else.
I'll admit, Ive often wanted:
more peace in my home
more joy in my heart
more harmony in my marriage
And yet, as I return to a pursuit of Him alone, I become convinced once again that I have all I need.
Will you join me in this search for what we are guaranteed we will find?
Jeremiah 29:13 says "And you will search for me and find me when you search for me with all your heart."
God, I want YOU more than success and contentment. 
Now it's YOUR turn. Leave a comment below, telling God you desire Him more than whatever it is you have been searching for and you could be one of  three winners of a free copy of my popular devotional book, God's Whispers to a Woman's Heart. (U.S. mailing addresses or American Post Office boxes only please.)