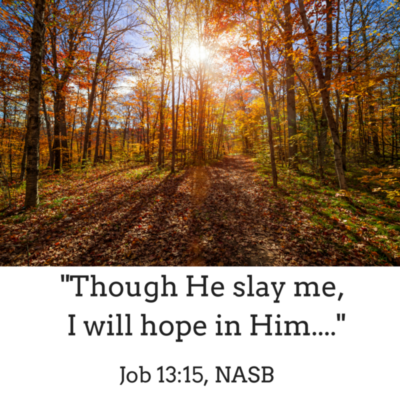 There's no magic formula for staying hopeful.
But I'm convinced there is One who instills hope in us during even the most hopeless of situations so that nothing can steal our joy.
I've spent the past 30 years sharing with women how they can be hopeful in the midst of life's circumstances.  It's natural for all of us to wilt in the heat of trying circumstances or dry up in the drought of life. But when we find our source of Hope we are able to flourish in the desert and bloom through adversity.
In my most recent book, When God Sees Your Tears,  I share how you can practice hope even when there might not be anything in your situation that looks hopeful.
1. Hope in God's Word
Did you know that God cannot contradict His Word? While He has guidelines in Scripture that are not necessarily promises, there are passages that contain promises that hold true as we obey Him. For example, Philippians 4:19 says:
And my God will supply all your needs according to His riches in glory in Christ Jesus" (NASB).
You might be hoping in God for your wants right now, but His Word promises He will always take care of your needs (physical and emotional) as you look to Him for your strength and support.
2. Hope in God's Character

God also cannot contradict Himself. So when He says in His Word that He causes all things to work together for good to those who are called according to His purpose (Romans 8:28), He will do just that. He will take care of what you put into His hands. The more you get to know Him, the more you will trust Him. The more you trust Him, the less you will doubt, worry, fear, or give up. So don't expect God to be like every person who has let you down. Trust in His character by getting to know Him through His Word. It's difficult not to trust One who is truly good, loving, kind, and incapable of making mistakes.
3. Hope in God's Timing
God knows exactly when you are ready to receive the desire of your heart, and He will not act a moment too soon or a moment too late when it comes to doing what is eternally best for you. We can tend to doubt that. But that's because we expect God's timing to be similar to ours. God's timing is nothing like ours. Yes, it's often longer than ours, but it's also far more precise. When you are in the long haul of waiting and you aren't getting a yes, will you trust that what you might think is a no might really be His wait? He knows best. And therefore His timing is always perfect.
How do you and and I go from fearing the worst to expecting the best on a daily basis?
Realize the circumstances of your life haven't happened by chance.
Remember there is one who oversees everything that happens in your life and loves you more than you can fathom.
Trust that if He's waiting, or allowing hardships, or declining to answer you just now, He has a reason. Most likely, He is preparing you for the day you will receive the "good" that He has for you.
How will you remain hopeful in your circumstances today? I'd love for you to leave a comment on my blog and let me and my readers know so we can encourage you.