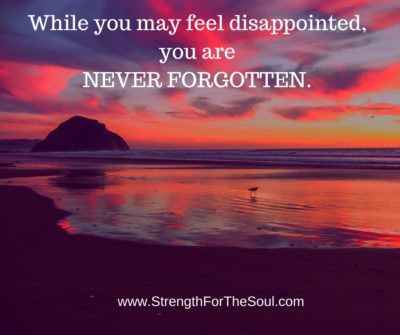 Have you experienced circumstances lately that threaten to darken your outlook on life? Are you struggling with a health problem? A tight or dreary financial situation? A broken relationship? The loss of a loved one?
It might be easy right now for you to resent your circumstances, question God, or even look for someone to blame.
If you do that, though, you might be speaking or acting too soon.
A woman we read about in the Bible did that. Her name was Naomi. Although her name means "Pleasant" she soon found her circumstances were not, and neither was she.  After moving to a foreign land, losing her husband, and then losing both of her grown, married sons, she changed her name from "Pleasant" to "Bitter."
"Call me Mara (which means "Bitter")," she told everyone she met.By changing her name she was, in essence, saying "I'm not pleasant to be around anymore. I'm bitter.
She let her circumstances define WHO she was. So sad.
But Naomi spoke too soon.  She reacted emotionally to the circumstances right in front of her, instead of responding maturely to the God who had her life in His capable hands.
Naomi gave in to the drama. But God was about to change the scene.
Naomi's daughter-in-law, Ruth, developed a close relationship with her, then met a man, Boaz, who married Ruth and provided for her mother-in-law, too. Long story short, Naomi's life wasn't over after all. God was just starting to bless in a big way. Naomi, through her bitter-at-first circumstances, eventually found a new life and became the great-great grandmother of Israel's King David.
Sometimes you and I have to go through the dark to experience the deliverance. We've got to see the bad before we witness the blessing. And when we start to look for God, we will ALWAYS see Him at work, even if it's just a work in us — a slow, gentle, character-building — that He is accomplishing.
Is the drama in  your life attempting to define you right now?  Don't be the woman who says "Call me bitter." Be the woman who remains pleasant to be around because she's looking for God to show up and keep His promises. God is never ever late. And, because of that, David the Psalmist was able to say:
Wait for theLord; be strong and take heart and wait for theLord (Psalm 27:14).
How will YOU focus on God's deliverance rather than the drama in your life? Let me know in the comment section below so I can pray for you. And, to help you in the waiting, I'll give you an additional $5 off of the already reduced price of my popular book, When God Sees Your Tears, so you are constantly reminded that God knows you, hears you, and sees you. (Just use the coupon code GST5 in the shopping cart on my website. But hurry. This offer is only good for the first 50 readers who respond.)