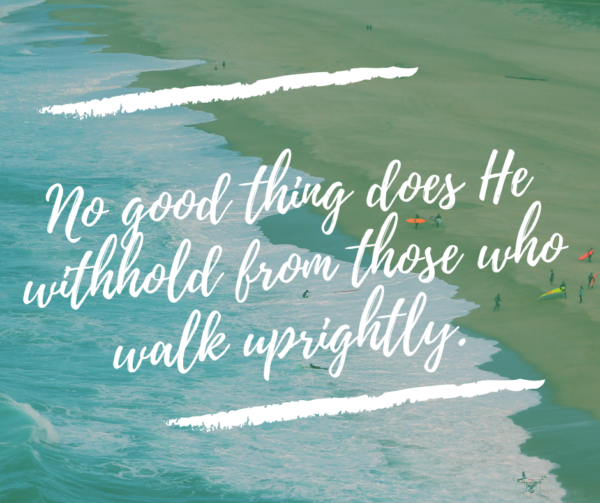 Last week I gave you "Five Reasons God Might Not Be Blessing Your Life." This week I want to touch on five more reasons He might appear to be silent or may be deciding not to bless you with what you're asking for. These reasons, backed by Scripture, will prayerfully assure you that God is good, He knows what He's doing, and His timing is perfect. 
1. He wants you to be persistent.
Have you become discouraged or given up when it comes to receiving certain blessings? Maybe you haven't been persistent enough.
In Luke 18:1-8, Jesus told his disciples a parable "to show them that they should always pray and not give up" (verse 1). Because God is more concerned about a relationship with you than giving handouts, He may simply want you to persist in prayer. Don't give up. The blessing may be right around the corner.
2. There might be unconfessed sin in your life.
Are you praying for the blessing of a job? A promotion? Success in a certain endeavor? If there is unconfessed sin in your life it could be affecting your relationship with God and affecting His handout of blessings. God is all about relationship. So, if He's not blessing, perhaps the relationship is strained through disobedience in your life or habitual sin that you are not surrendering to Him.
After instructing believers to pray with the right motives, James instructs "Submit yourselves, then, to God. Resist the devil, and he will flee from you. Come near to God and he will come near to you. Wash your hands, you sinners, and purify your hearts, you double-minded. Grieve, mourn and wail. Change your laughter to mourning and your joy to gloom. Humble yourselves before the Lord, and he will lift you up." James seems to be implying that as we get the relationship right with God, and maintain a level of humility, the blessings – or promotions – will flow.
3. You are being directly impacted by someone else's sin.
If you're being responsible and obedient with your money and yet God is not blessing you, financially, you might want to look at the behavior and spending habits of anyone else who shares your bank account. God doesn't punish us for the sins of others, but we sometimes share the consequences of sin or irresponsibility from those who are closely connected to us.
The Bible is full of warnings about the consequences of unhealthy associations. For instance, Proverbs 22:24-25 warns: "Do not make friends with a hot-tempered person, do not associate with one easily angered, or you may learn their ways and get yourself ensnared." Psalm 101 is a good example to us to pray for integrity in all our dealings: "My eyes will be on the faithful in the land, that they may dwell with me; the one whose walk is blameless will minister to me.No one who practices deceit will dwell in my house; no one who speaks falsely will stand in my presence" (verses 6-7).
4. What you're asking for isn't truly good for you.
Scripture tells us: "Every good and perfect gift is from above, coming down from the Father of the heavenly lights, who does not change like shifting shadows" (James 1:17). But sometimes we haven't stopped to consider if what we are asking or expecting from God is truly good and perfect for us.
Psalm 84:11 assures us "For the Lord God is a sun and shield; the Lord gives grace and glory; No good thing does He withhold from those who walk uprightly." That shielding aspect of God's character might be protecting us from something we're asking God for that isn't necessarily God's best for us. In that case, what we assume is a blessing might not be a "good thing" for us, after all. Trust God with what you don't see.
5.  He IS blessing, you just haven't noticed.
What do you consider a blessing? Something financially rewarding? Something that makes you happy? The fact that you have life, breath, and even one person in your life who loves you are all blessings that He's given that you may have been taking for granted. 
Ephesians 1:3 says God has "blessed us in the heavenly realms with every spiritual blessing in Christ." The next 11 verses describe, in detail, our eternal inheritance if we are trusting in Christ Jesus for our salvation. Start thanking Him for all that you have, even what doesn't appear to be a blessing, and you may find He has already blessed you far more than you had realized.  
To keep a mindset of being grateful for all you have, and for what God is doing — even during "unanswered" prayer — see my devotional book, God's Whispers to a Woman's Heart.