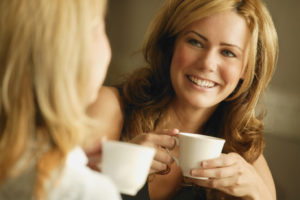 There are two kinds of women in this world: Those who have been hurt and continue to feel hurt,  and those who have been hurt and have surrendered it to God and now help others overcome their hurts, too. I know which woman I want to be — the one who is a blessing and encouragement to others, regardless of what I've been through.
One of the greatest ways to overcome pain in your past is to help someone else out of the same kind of pain you once experienced.
In my newest book, When a Woman  Overcomes Life's Hurts, I talk about the joy and healing that comes by reinvesting in the lives of others.

Second Corinthians 1:4 says God "comforts us in all our troubles, so that we can comfort those in any trouble with the comfort we ourselves have received from God."  That verse tells me that sometimes God allows pain in our lives so that we can help others through similar pain, and glorify God in the process.
Did you come from an abusive home? There are many others who may have experienced the same. What can you do to be an "angel of encouragement" in their lives?
Have you lived through the pain of betrayal and rejection in your marriage? There are many women experiencing the same thing right now. How can you be a shoulder to cry on and a source of strength in their lives?
Did you suffer the guilt and shame of a past abortion? There are many women who need to hear how you found God's hope, healing and forgiveness.
Did you live through the fear and trepidation of a teenage pregnancy? There are girls in your neighborhood or in your church who are walking that lonely road right now. Can you offer them acceptance, support and encouragement by letting them know they are not alone?
Be a blessing in the lives of others by:
Looking backward — at where God has brought you. What pain in your life can you help someone else through?
Looking Inward — at what God has done in you. How has He prepared you, through your pain, to be an encouragement in someone else's life?
Looking outward – at those who need help. Where are the women who are now experiencing what you once did?
Looking upward — at God's strength and equipping. Depend on Him to enable you to strengthen someone else.
Looking forward – to the doors that God will open for you. Pray now for opportunities to be a blessing in someone else's life.
By helping someone else find hope, you are speeding up your own road to healing and wholeness. And you are living out the purpose in your pain.
Instead of being a wounded woman, be a warrior woman….by going back into the places where you once felt pain and helping others find their way out. Fight for them, like God has fought for you.
Have you had an opportunity to help others through the same kind of pain or hurt you have experienced? I'd love to hear about it.