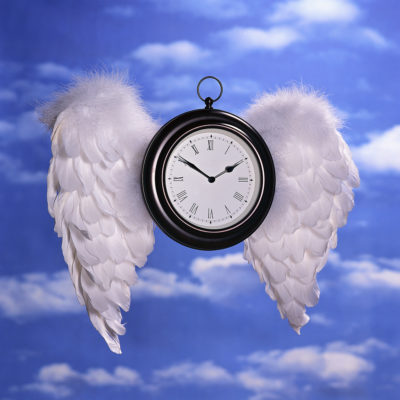 A married mom of two daughters, ages 2 and 6 months, asked me for advice on those days when she has a hard time just getting up and getting going.
I remember those days, feeling life was taking a lot out of me. Feeling my child was needing so much from me. And, at times, feeling I had so little left to give.  I survived those days by taking some advice from  Moses in Psalm 90:12. It was a simple prayer of his that refocused me on what was most important and warned me not to wish away that season of life too quickly:
"So teach us to number our days, that we may present to You a heart of wisdom."
It's natural to want to stay under the covers and not face anything, especially when you feel like getting out of bed will simply result in getting run down. But our altitude (how high we can keep our spirits, as opposed to how low we can sink in motivation or despair) is directly affected by our attitude. So, we need to remember the reason we still live, breathe and have our being.
We were created to love God and enjoy Him forever. He's given us certain blessings that we only have so long on this earth to enjoy. So when life starts to feel like drudgery, we must "number our days" so we can live wisely.  As you lie in bed, searching for your motivation to get up and get going, here are some facts you can focus on — and some ways you can "number" your days:
Life is short. Make these 12 hours of daylight count by doing at least one thing you've never done before.
Your children are growing fast. Do something with them today that they will remember throughout their childhood.
You aren't guaranteed a tomorrow…for yourself OR your children. What one thing can you do today to make it stand out in your mind — and theirs — as a gift from God?
You are on a limited-time assignment. God has given you a task to raise these children and it will be over in a few years that will race by like seconds.  Study them today. Memorize their baby faces. Take notes on what you observe. Make every moment with them count.
And once you get out of bed,  here are some practical things you can do to maintain your energy throughout the day:
Go on a brisk walk (and a fun stroller-ride for them) to get your heart-rate up. Just by exercising, you'll be adding energy into your day, along with increased endorphins which will improve your mood.
Watch the clock and eat a high-protein energy snack every two- to three-hours. Fueling your body, physically, will help you mentally and emotionally, as well.
Take a "power nap" when the kids go down for their naps. A lack of sleep could be making you feel listless and lifeless. Or, just lie there and relax…talk to God or play some worship music and let it soothe your soul.
Get outdoors. Just feeling the grass on your feet, the sun on your back, a cool breeze on your face will remind you, again, that life is short and you were created to love God and enjoy Him (and what He's created) forever.
Find the view — even if it's a butterfly seen from your kitchen window, or a bird perched on your backyard fence. When we see and experience life and beauty, it will focus our minds and freshen our souls.
It feels like just moments ago when I was wishing my daughter was a little older and I could have a little  more time to myself. But today, as I finish writing this blog, she is away at college and I am counting the hours when I will see her again.
Remember, dear mom….life is short,  children grow quickly, and messy houses can wait. Our  exhaustion from the tasks at hand lasts only for the moment.
"But those who wait upon God get fresh strength.
They spread their wings and soar like eagles,
They run and don't get tired,
they walk and don't lag behind." (Isaiah 40:31, The Message)
God is faithful and will equip you with what you need to get through not only this day, but this season of life. So get out of bed, and live it to the fullest, treasuring the time you have with your little ones while they're still little. You'll never get this day to do over again.
Next week I begin a series on "Answering Life's Tough Questions." Leave me your comments below or email me at Cindi@StrengthForTheSoul.com and I'll answer your question, too.