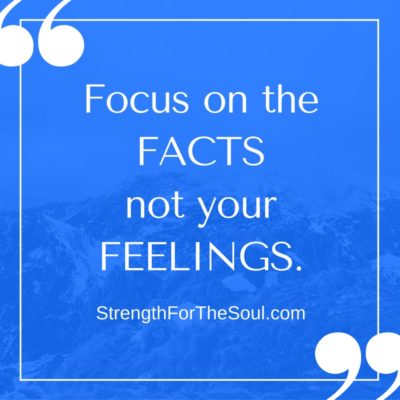 Feeling discouraged? Tired? Physically or emotionally run down?
It happens — from life, lost love, disappointments, and an overloaded schedule.
And God understands those days. I believe that's why He included some encouraging songs in the Bible that remind us we're not the only ones who have felt down and complained to Him about it.
In Psalm 6, David was experiencing an emotional low. He apparently felt discouraged, defeated, and overwhelmed. Physically, he was wasting away. He'd been running from his enemies too long and he was exhausted. Spiritually, he was dismayed and thought God had forgotten him. Emotionally, he was depressed and feeling ready to give up. I'd say David was running on empty!
Listen to his cry for help:
"Be merciful to me, LORD, for I am faint;
O LORD, heal me, for my bones are in agony.
My soul is in anguish.
How long, O LORD, how long?
I am worn out from groaning…." (Psalm 6:2-3, 6a)
Do you ever feel that way? I do. When I'm over-extended, and I've pushed myself beyond the limits and I'm feeling physically and emotionally rundown. When I've reached burnout.
David was originally focused on his feelings. But then he focused on the facts to bring him out of his depressed and run-down state. Look at what happened when he started to remember the facts about God:
"Away from me, all you who do evil,
for the LORD has heard my cry for mercy;
The LORD accepts my prayer.
All my enemies will be ashamed and dismayed;
They will turn back in sudden disgrace." (verses 8-10)
What caused the dramatic shift in how David felt? He got his focus. It wasn't about how he was feeling. It was about the God who was going to take care of him. When he remembered the facts about God, his feelings waned and he got the energy and confidence he needed to get through his situation.
This is what David discovered by focusing on the facts about God, rather than his feelings:
• He may have felt like he was forgotten, but the fact is that God knew his case.
• He may have felt that God wasn't listening to Him, but the fact is that God in Heaven heard his cry.
• He may have felt that God had rejected him, but the fact is that God had accepted and acted upon his prayer.
What About You?
You, my friend, may feel rundown and defeated, like you can't do one more thing but the fact is that you can do "everything through him who gives (you) strength" (Phil. 4:13).
You may feel you're up against a no-win situation, but the fact is that "…with God all things are possible" (Matthew 19:26) and "Everything is possible for him who believes" (Mark 9:23).
You may feel like you're at the end of your rope and you can't do one thing more, but the fact is that "those who wait for the Lord will gain new strength; They will mount up with wings like eagles, they will run and not get tired, they will walk and not become weary (Isaiah 40:31).
By waiting on God (that doesn't take a lot of energy, by the way), you'll gain new strength to rise up, walk, and even run.
Switch your focus right now onto God…the One who hears your cry and helps you.