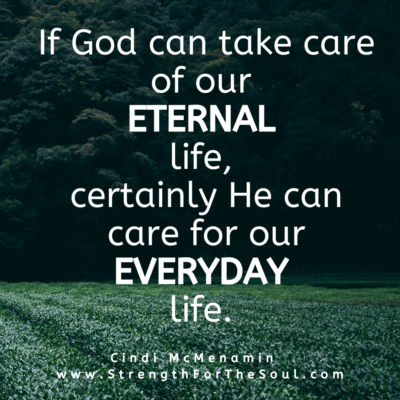 Are you on the edge of your seat regarding your health, the election, your finances, or your future?
Don't worry. God's got this. All of it.
Psalm 138:8 says: "The Lord will accomplish what concerns [us]; Your faithfulness, Lord, is everlasting" (NASB). In the New King James Version, that verse says: The Lord will perfect that which concerns me." God will not only accomplish all we are concerned about, but He will do it perfectly… something you and I simply cannot do.
Last week I gave you 4 Worries to Get Rid of Now. This week, I want to remind you of four more concerns of yours that God has covered.
Stop worrying about your safety.
Yes, the country is volatile right now. Yes, rioting could break out in the next few days, depending on how the election goes. But God is ultimately the One who keeps His children safe. We can install a top-of-the-line security system in our homes, invest in the safest cars on the road, and take all the necessary precautions to protect ourselves and those we love from a virus, cancer, or premature death, but ultimately God is the One who protects us and keeps us safe.
David sang in Psalm 4:8: "I will lie down and sleep in peace, for you alone, O LORD, make me dwell in safety." And in Psalm 121:2-3, we are told, "My help comes from the LORD, the Maker of heaven and earth. He will not let your foot slip – he who watches over you will not slumber…." You can only do so much to keep yourself safe and the rest is in God's hands. Trust those loving capable hands, rather than insult Him by worrying. 
2. Stop worrying that God won't provide.
If God can control the vast complexities of the universe, He can control what happens on Wall Street, and with your retirement accounts, and with your job and mortgage or rent payment.
Jesus, Himself, said: "…do not worry about your life, what you will eat or drink or about your body, what you will wear…. Look at the birds of the air; they do not sow or reap or store away in barns, and yet your heavenly Father feeds them. Are you not much more valuable than they?" (Matthew 6:25-26). That sounds like a pretty clear "Don't worry about it" statement from the Son of God. In other words, "You have a God who is in control, so don't you feel you have to be!"
Scripture also promises that if you faithfully honor God with the first of what you have, you never need to worry that He won't provide for you, financially, and otherwise (Micah 3:10-13). God promises in His Word to supply all our needs according to His riches in Christ Jesus (Philippians 4:19). Take God at His Word and trust that He takes care of His children.
3. Stop worrying that God isn't good.
We don't consciously worry that God isn't good, but by worrying, our actions say to God and everyone around us that God doesn't have our best in mind, doesn't care about us, and can't handle what concerns us.
First John 4:18 assures us "There is no fear in love. But perfect love drives out fear, because fear has to do with punishment. The one who fears is not made perfect in love." When you love God perfectly, you will trust Him immensely. And where there is absolute trust there is no room for fear, worry, or doubt.
And what about the outcome of the election? Take comfort in Psalm 75:6-7 which assures us: "For promotion cometh neither from the east, nor from the west, nor from the south. But God is the judge: he putteth down one, and setteth up another" (KJV). Ultimately, our LORD is sovereign over elections and who sits in leadership over the various countries of this world. Don't fear whom God allows to rule Russia, China, or the U.S. for the next four years. God is still God of the earth and our hope is in the One who sits on heaven's throne.
4. Stop trying to control what only God can.
How much time do you and I waste worrying about what we have absolutely no control over? COVID. Next four years. Government mandates. Future rights of believers. God can control everything we think we must and all that we know we can't. So, when we wring our hands with worry and fret, we are saying to God "I don't think You have a handle on this."
Scripture makes it clear there are only two things you and I can control: Our own attitudes and our own actions. So, control your mind and thoughts by focusing on what is true – not on what might happen (Philippians 4:8), control your actions by being quick to hear, slow to speak, and slow to anger (James 1:19), and control your speech by saying only words that build up others (Ephesians 4:29). Defer to God on the rest and you'll experience what it means to be a prayer warrior instead of a panicked worrier.
Which of these concerns do you need to give God right now, so you can experience His peace and comfort? Let me know in the comment section below so I can be praying for you.
To help you trust God and worry less, see my books, 10 Secrets to Becoming a Worry-Free Mom and God's Whispers to a Woman's Heart, available now in my website store.