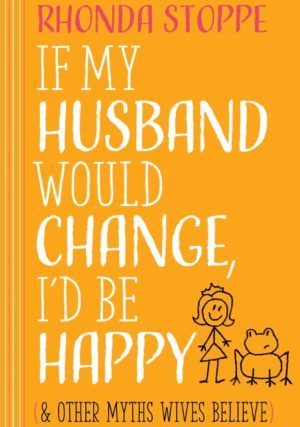 Are you trying to change your husband?Are you thinking you'd be happier married to someone else? Are you just falling out of love with him?
My friend, Rhonda Stoppe, has written a beautiful book to address all those myths and more — and offer you hope and insights into a more fulfilling marriage.
I've asked her to be my guest blogger this week and give you a sneak peek into the premise of her new book, If My Husband Would Change, I'd Be Happy (& Other Myths Wives Believe).  You also have a chance to win a free, signed copy of her book at the end of the post, so keep reading.  

Rhonda says…..
I just love a good love story don't you? In my new book If My Husband Would Change I'd Be Happy — And Other Myths Wives Believe, I wrote about some incredible couples from the Bible, history, and present day through whom God accomplished extraordinary feats. I discovered their secret to happiness was found when their love for each other deepened through their genuine love for Christ.
As I wrote, I laughed, I cried, and I longed for my own marriage to reflect Christ's love the way these incredible marriages did in their generation. Don't you want your marriage to be a beacon of Christ's love to your generation?
If you are a follower of Christ, you may be surprised to learn that the number one thing on God's agenda for you–and your marriage, is not that you live "happily-ever-after" as many believe is the goal of a happy marriage.
But rather, your marriage will experience true happiness when you realize, God created you to bring glory to His great Name. Through the good times, and the bad, does your marriage glorify Christ? Listen to what God says is His purpose for creating you:
Everyone who is called by my name

…I created for my glory

Whom I formed and made (Isaiah 43:7).
Created for God's glory––What does that mean? The word glory in this passage means to reflect or magnify. In other words, if you are a believer you've been created to live in a way that draws others to God as they see His character lived out in your life– beginning with your children, if you have them.
In 18 years of youth ministry along side of my youth pastor husband, the number one issue that pushed teens, who grew up in the church, away from God was the hypocrisy of their Christian parents. More specifically, when their parents' marriages were "secretly" in conflict.
You know what I'm talking about…Mom and Dad have a big blow up in the car on the way to church, but then they put on their "everything's just fine" faces when they arrive. Kids are not only sickened by this display of hypocrisy, but it is one of the main reasons why 75% of teens leave the church after they graduate from high school.
You are writing your own love story for your kids to read.
You see, your children are watching you to see if what you say you believe makes a difference in your life––and your marriage. If your kids observe strife and daily conflict between you and your spouse, don't be surprised if they grow up to reject your faith.
When you realize that God brought you together with your husband for the purpose of reflecting Christ's character to this generation, it will help you understand the importance of drawing near to Christ so that He can love through you with His perfect, selfless love.
You will be happy to discover the deeper your love for God grows, the more deeply He will love your husband through you, and in this you will find the secret to true happiness in marriage.
And don't feel left out if you are married to a man who does not know Christ, or does not lead your family to follow the Lord. In my new book you will be happy to read the love stories of a number of women who were married to ungodly men, yet God used these women to shine brightly for Christ in their generation.
Remember, the key to experiencing fulfillment in your marriage does not lie in how well your husband measures up to your expectations, but in how well you love God.
Cindi here….If you would like to win a free signed copy of Rhonda's book "If My Husband Would Change, I'd be Happy" tell me in the comment section below one thing you truly appreciate about your husband. I'll pick a winner on Friday, Aug. 28 to receive a free book (U.S. residents — or American Post Office boxes — only please).
Rhonda Stoppe is an accomplished and enthusiastic Christian speaker with more than 20 years' experience in helping women build no-regrets lives. She and her pastor husband, Steve, minister in Northern Cal9ifornia and have four grown children as well as grandchildren. Rhonda is also the author of Moms Raising Sons to Be Men.