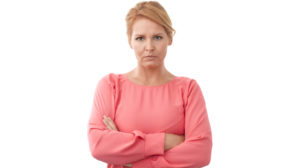 Every week I receive an email from another woman who is frustrated with her husband.
Every week I read exasperated words like "I'm fed up with this," "I've had it with him," and "What should I do?"
Every week!
That tells me there are a lot of you out there who are feeling like that…but most of you never reach out for advice or help. You stuff it in and keep dealing with it…or you call it quits.
So this is an open letter to every one of you who has "had it" with your marriage. (And if this doesn't apply to you, please pass it on to someone you know who can be encouraged through it.)
I understand your frustration with your husband. Every wife is frustrated to some degree with the things her husband is or isn't doing. He doesn't treat you like he once did. He seems distant. He doesn't communicate at a deeper level. In some cases he constantly criticizes you. In most cases, he's ambivalent and resigned.
You say it has led to a deep depression. You cry a lot. You wonder when things will change. Or, today you have decided you no longer want to wait for the change. You're calling it quits.
I remember the day I, too, felt depressed.
I concluded that the only way I was going to be happy is if my husband made certain changes. You see, I, too, married my husband to meet my needs and make me happy. I don't think I consciously did that, but we all, in our own selfishness, expect marriage to fill us, complete us, and make us happy. We expect we will never be lonely again. We think life's problems will be solved and the holes in lives will magically be filled.
The truth of the matter is that each of us is an incomplete, broken individual who marries another incomplete, broken individual. (Romans 3:23 says ALL have sinned and fall short of the glory of God — just one of the ways we are all broken.) So, the reality of marriage today is that two sinners come together often hoping the other person will complete them and then they find they are disappointed. However, God is the Only One who can meet all your emotional  needs. He's the Only One who will never disappoint you.
I had to learn this lesson 20 years ago and it ended up saving my marriage. When I quit looking to my husband to be god –and fulfill me in every way possible– and started looking to God to be my "spiritual husband" (Isaiah 54:5), it is then that I took a great deal of pressure off of my husband so that he didn't feel he was continuing to come up short. And that made him want to pursue me again.
Dear friend, your husband will never be able to meet all your expectations and emotional needs, nor change the way you are feeling so that you are no longer depressed. In fact, he probably already suspects or believes you find him responsible for your depressed state. That might be the very reason he is distant. You've already given up on him, in some ways. So it's possible he has given up on himself, too.
I really do understand when you say you are "fed up" with your marriage. There have been days I have thought the same thing, too. But those are the days I am focused on me, and I must remember that marriage was not God's gift to make me happy. I truly believe it was God's gift to me to make me holy. Marriage is our practice ground for dying to self…for loving another as God has loved us. You and I make mistakes, too. We disappoint our husbands as much as they disappoint us. The key is, will you die to self (Galatians 2:20) and love that man and extend grace to that man as God has loved and extended grace toward you? You made a promise to him, and to God, before witnesses that you would. This is the test on days and in seasons of life when you don't feel like loving him anymore.
I know these are tough words, but stick with me, my friend. Watch for the rest of this blog next Tuesday (Advice for the Frustrated Wife – Part 2), in which I will answer the question "What should I do?" with two steps that can change your heart and your marriage for good.
In the meantime, what is one small way you can love your husband as God loves you? I'd love for you to share it with me in the comment section below.