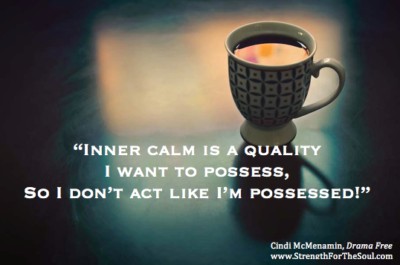 I know how you feel.
There are so many things for you to do in so little time. Kids are pulling at you, or your job is pushing you. Responsibilities abound. And there's only one of you. It's the perfect storm for overwhelm or drama.
While writing my book, Drama Free, I became aware of how easily overwhelmed we can be if we push ourselves to exhaustion. Requests can feel like demands, previous commitments can feel like pressure-filled obligations, and someone's ill-timed words can set off fireworks in our emotions and actions.
To the contrary, when we take proper care of ourselves and make sure we are taking an "intermission" we can avoid making a scene and being labeled a drama queen when unexpected events hit us or someone says something that rubs us the wrong way.
Here are seven simple ways to keep yourself from feeling overwhelmed so you can experience peace and serenity, instead of panic and stress.
Let it Go
Whether it's a critical remark from someone that is gnawing at your insides or an added task that you took upon yourself and now it's causing you to feel overwhelmed, just let it go. There are few matters that are worth losing sleep over. And there are few things that can't wait until  tomorrow. Or next week. Or even longer. Your health is more important than holding onto what is stressing you out.
If you supervise others, practice the art of delegation and allow others to share the load. Know what you do best and hand off the rest to others who can do those jobs better than you. You are only one person. Cut the drama by cutting your schedule.
Sleep on It
Your mom might have told you years ago to "sleep on it" when you were faced with making a difficult decision. That's great advice when it comes to not only important decision-making but to anything that might overwhelm you, such as responding to an accusatory email or angry voice message, or committing to one more task that will leave you overextended. Studies show that the brain actually processes situations more thoroughly while you sleep. That means you wake up with a fresh – and often less emotional – perspective. Sleeping on it is the breather that will help you gain perspective and cool the heat of your emotions so you don't overcommit to something spontaneously or out of guilt.
Commit to the Three E's
I call them the Essential E's: Eat right, exercise regularly, and embrace sleep. Fueling your body with protein and nutritious food, exercising to release those feel-good endorphins (as well as keep your heart healthier), and embracing opportunities to take a power nap or get a good 7-8 hours of sleep each night will keep you feeling fresh, rather than fatigued and overwhelmed. When you eat right, exercise regularly, and get enough sleep you can be at the top of your game and cope so much better when the drama of life hits. When we are emotionally spent, it's usually because we are physically and nutritionally spent as well.
Stay Out of It
We often start feeling overwhelmed when we've extended ourselves a little too far when it comes to helping others. It's called enabling – or "rescuing" – and women are great at it.  But just because something happens in your sphere of influence doesn't mean you are the one to run to the rescue and fix it. Just because you are made aware of something doesn't mean God is assigning it to you. Much drama – and feelings of overwhelm – can be avoided when you get in the habit of running your schedule past God first. It looks like this: 1) Stop; 2) Seek God's guidance; and 3) Stay out of it unless God gives you a clear indication to step into it.
We often reverse that. We think I will do this unless God stops me.  If you're already overscheduled, think this way instead: The answer is no unless God says "go."
5.  Reprioritize
I'm sure at one point you knew clearly who the priority people were in your life. But that can get fuzzy when we are trying to please too many people, which is often the case when we begin to feel overwhelmed. Who are the people who will cry the most at your funeral? Put them first. Make everyone else take a number and wait in line. In short, that's the simplest way to live without regrets.Priority people get the first and best of your time. Everyone else will simply have to learn to wait.
6. Pray it Through
When you start to feel overwhelmed, talk to God about it. Just giving Him your concerns will help usher peace into your life and give you a little more clarity. Philippians 4:6-7 says "Don't worry about anything; instead, pray about everything. Tell God what you need, and thank him for all he has done.  Then you will experience God's peace, which exceeds anything we can understand…" (NLT).
You can experience that peace, not a feeling of being overwhelmed, when you pray about what is pressuring you. Praying is equivalent to taking an intermission. It quiets your soul, clears your mind, and teaches you to leave your concerns with God who is better at taking care of them anyway.
7. Get Outdoors
There is something therapeutic about getting outdoors, breathing the fresh air, and noticing the beauty of creation (even if it's just some trees that line the sidewalk outside your office building).
Getting out into nature reminds us that "the earth is the Lord's, and everything in it" (Psalm 24:1) and it makes us realize that the petty things of this earth that overwhelm us don't really matter in the scope of eternity.
Which of these will you practice this week to feel less overwhelmed and more drama free? I'd love to hear from you in the comment section below.