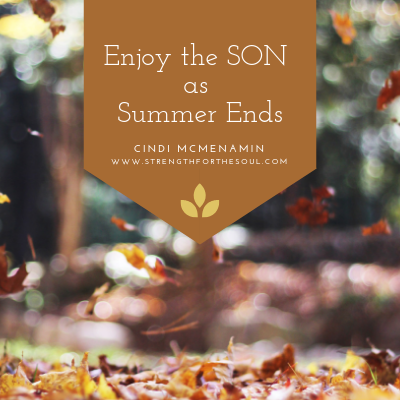 Summer is almost over. Would you like to spend the rest of it growing closer to the Lord? How about taking a week or two to head into Fall with a greater awareness of how to discern God's voice, enjoy His presence in the outdoors, or fall in love with His Word again?
Here are five ways you can enjoy the Son as summer ends:
Meet Him in the Morning – Throughout the Psalms, the songwriters declared that they met God "in the morning." Try meeting Him in the same place each morning this week with a cup of coffee or tea, your Bible, and an open heart to hear Him speak through His Word. While you may start this habit out of obligation, you may soon find you come to Him each morning out of inspiration. By Fall, you may find yourself thinking, I can't wait to meet Him in the morning. 
Record Your Rescues – Here's something to do while meeting Him in the morning. Start recording in a journal each day that coincidence that worked in your favor, the money that came in the mail just in time, the car that veered out of your way so that you missed the accident. The writer of Psalm 71:15 said "My mouth will tell of your righteous deeds, of your saving acts all day long—though I know not how to relate them all." Call it a "Blessing Book" or your "Record of Rescues," and start the habit of noticing God's "saving acts all day long." It will do wonders for your perception of your God who always comes through. 
Sing at Sunset – As the days get shorter, make it a point to go out to find the sunset (unless you can see it from one of the windows of your home), and sing a song of worship to your Creator. Sing an old hymn, a favorite worship song, or get out your Bible and make up your own tune to one of the psalms – after all, they were each written to a tune and meant to be sung, not just read. Make your joyful noise to Him and see how it fills your heart with joy in return. 
Start an Evening Reflection – In Genesis 5:22-24, we learn that Enoch "walked with God" for 300 years before God whisked him off of this earth. (Pretty cool, huh?) Ever wonder what they walked and talked about? What if you started walking with God in the cool of the evening for 30 days? When we take time to slow down and reflect on the day, and we invite God into our reflection, we allow Him to teach and transform us. When you add movement (like walking) to the mix, you keep your mind fresh and your body healthy. Start a habit of an evening walk through your neighborhood with your spouse, or an early evening stroll through a secluded area outside as long as the late summer weather permits. Or, if you're immobile, start an evening reflection time sitting near your living room window when the house is quiet.
Adopt a Widow – James 1:27 tells us that pure and undefiled religion before God the Father is "to visit orphans and widows in their affliction, and to keep oneself unstained from the world."Is there a recent or longtime widow in your church, in your neighborhood, or at your workplace? Bring her flowers, leave a gift by her door, prepare a meal for her every Saturday night, or have her over to eat with you and your family. She may have nowhere to go this Thanksgiving and God might be laying it on your heart to extend toward her. Jesus cared about the orphans and widows. Seek one out this Fall and extend a hand to help. 
Practice Gratitude – Every day from now until Thanksgiving say aloud three things you're thankful for. Share them with your family or loved ones and invite them to join you in practicing an attitude of gratitude. First Thessalonians 5:18 says "give thanks in all circumstances; for this is the will of God in Christ Jesus for you." Stretch yourself by including in your list one or two things that don't necessarily look good to you right now. That is obediently being thankful in all things, not just the good things, as you trust God to work them for good in your life (Romans 8:28). 
Which of these steps would you like to focus on so you can grow spiritually this Fall? I'd love to hear it in the comment section below.