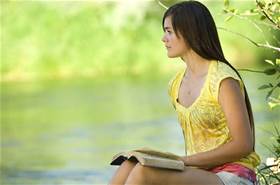 Would you like this new year to be a better, more thriving year with God?
It can be if you learn to fall in love with Him and His Word once again.
If you're like most people, you struggle with staying focused and making your devotional time more meaningful. Sometimes the hardest part is just getting there – to that quiet place with an open Bible and an open heart ready to hear from God. Then, once you arrive, it seems that distractions abound, right? Or, maybe you feel like you're in a rut when it comes to your daily routine of meeting with God.
Just like a well-thought-out date night can tune up a marriage and keep it running smoothly, putting a little more thought into spending alone time with God can rejuvenate your devotional life.
Here are 5 ways to reignite your quiet time with God so you come to Him in 2019 out of inspiration, not obligation:
Break the Routine
Having a regularly-scheduled quiet time in the same place at the same time each day is good for developing a habit, and making sure you don't miss intentional time with the Lord. But it may be helpful to switch up your routine at times to break the monotony and the predictability of your time with God.
Break the monotony of familiarity by moving your quiet time to a different room of the house, or switching to a different time of the day. If you are a morning person, try an evening reflection in addition to – or instead of – your morning routine for a day or two. You may even find an extended weekend day will help break the routine and usher in some much-needed quiet time with God. Consider playing some soft music or recorded nature sounds to help you reflect and focus on the Lord. Think of your quiet time with God like a date and change it up to add some excitement to your time with Him.  
2. Bring it Outdoors 
Do you usually have your quiet time indoors? Then bring it outside onto your front porch or sit in the garden (weather permitting) for some quiet time alone with your Bible. Getting outdoors – and hearing the birds chirp or the wind blow through the trees, or the rain fall as you're sitting on your covered patio – can bring you to a place of deeper appreciation for your Creator and remind you that "The earth is the Lord's, and all it contains" (Psalm 24:1).  
If the weather is nice, take a worship walk and listen to God's Word through a Bible app or sermon podcast on your phone. By moving, as you're listening, you can stay engaged and eliminate your mind from wandering. 
3. Change Your Focus 
Do you ever feel you are going through a "dry time" with God because you're not hearing from Him or learning anything in particular from His Word? Some refer to it as being "in a spiritual rut." I remember experiencing this, too, and then I realized I was feeling that way because the emphasis was on me and what I was expecting to receive from God. It occurred to me during that time that perhaps I should be asking what God wanted, rather than dwelling on what I was hoping to get from Him.
Consider going to your quiet time with no other expectation than meeting with God in the silence and enjoying His presence. If you don't feel Him there, remember that "faith is the assurance of things hoped for, the conviction of things not seen" (Hebrews 11:1) and that "without faith it is impossible to please Him" (Hebrews 11:6), and sometimes He wants you to come knowing He is there without having to always feelHim. Ask God what He wants out of your time together, rather than telling Him what you want. Perhaps He wants you to just sit with Him in the silence and to know you will keep coming back, regardless of what you receive from Him. 
4. Listen Quietly
Sometimes it's easier for us to start in with our requests when we go to God in prayer, rather than to listen for Him quietly. When we take time to listen for God's whispers   on our hearts we can have a more meaningful and relational time with Him, rather than a purely academic time of learning from His Word.
Practice listening by reading a portion of Scripture and then turning it into a question. Ask God What does this mean in the context of who you are speaking to, and how can I apply this to my life?Don't be afraid of staying a few days or even longer in a passage to glean from it what God wants to say to your heart.  Scripture exhorts us to "study" to show ourselves approved unto God, a workman that needs not be ashamed, able to rightly divide the word of truth (2 Timothy 2:15, KJV). Interesting that Scripture says "study" or "Be diligent" (NASB, NIV, ESV), not "read quickly." So, take the time to study and be diligent and a large part of that time may be spent listening. 
5. Write It Out
Our minds can tend to wander when we read. Start reading actively by journaling what you're reading and learning. Rewrite the psalms – or other passages of Scripture – in your journal or paraphrase them by putting yourself into the verses and personalizing them.
You can also stay focused by writing out your prayers as a conclusion to your time with God. Keep a record of what you're praying for (along with the date of your request) and record God's answers – yes, no, or not yet. When you get in the habit of writing during your quiet time you can better retain what you're learning and stay more focused and engaged with the text. You also end up with a record of what you're learning and a great reminder, through the years, of your spiritual journey and where God has taken you, what He's brought you through, and His history of faithfulness. 
Which of these will you try to rev up your devotional time with God this year? Let me know in the comment section below. (And watch for "5 More Ways to Revive Your Quiet Time" on next week's blog.)